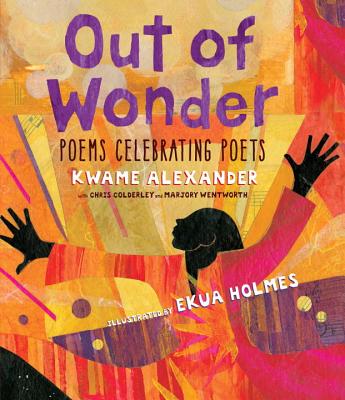 ReaderKidZ welcomes Karen Jameson with today's guest post:
"Poems come out of wonder, not out of knowing."
This quote, by children's author and poet Lucille Clifton, inspired the title of Kwame Alexander's latest poetry offering, Out of Wonder: Poems Celebrating Poets (Candlewick, March 2017). Published just in time to welcome Poetry Month, this gorgeous picture book introduces the 8 and older crowd to 20 timeless poets and their wondrous words.
In this labor of love, Alexander (with Chris Colderley and Marjory Wentworth) presents original poems created in the styles of selected works from long ago poets (Basho, Rumi, Dickinson), twentieth century favorites (Neruda, Frost, Hughes) and contemporary artists (Angelou, Myers, Giovanni, Oliver).   Arranged in three sections, Got Style, In Your Shoes, and Thank You, each poem is accompanied by a glorious mixed media image from Caldecott Honor illustrator, Ekua Holmes.
Truly a feast for the eyes and ears, Out of Wonder goes a step further by providing a short bio for each celebrated poet. These engaging bios tell just enough to spark future exploration by young poetry lovers. As a teacher, I could see using this collection to introduce one poet a day for the month of April. What a lovely tribute!
I leave you with the first twos stanzas from this gem by Chris Colderley celebrating a poem by Chief Dan George:
FOR OUR CHILDREN'S CHILDREN

Greet the new day

like a stranger

entering it

for the first time.

Listen to the rivers,

the raven's son,

the woodpecker's knock,

and your beating heart…
Karen Jameson is a children's author, newly retired teacher and active member of SCBWI. She holds a master's degree in Language and Literacy.  Karen has published a number of nonfiction science articles in AppleSeeds and Ask magazines.  Recently awarded the 2016 Sue Alexander Grant for the Working Writers Retreat (SCBWI LA), she is now living her dream of writing full time.