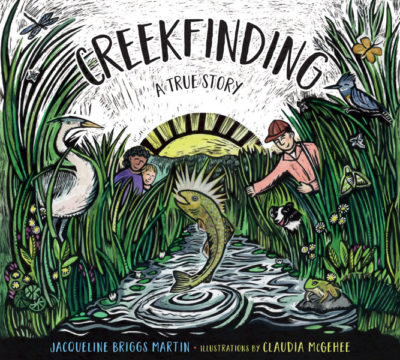 Who doesn't want to read a good book about buried treasure? This marvelous picture book, CREEK FINDING: A TRUE STORY, written by Jacqueline Briggs Martin and illustrated by Claudia McGehee is about a different kind of treasure. Not gold. Not jewels. This treasure is a disappeared creek.
How can a creek disappear? Even more mysterious, how can a buried creek be found and then re-appear?
CREEKFINDING is a true tale about the restoration of an entire ecosystem that had, at one time, been  bulldozed under. A man named Mike saw a piece of land for sale and said, "I'll buy it. I'll grow a prairie in this old corn field." And Mike did. While he was working in his field, an old farmer came by and told Mike that "long ago he had caught a book trout in this very spot." A brook trout in a cornfield? "No way!"
Mike began thinking. "He wanted to find the creek, make a place for brook trout, birds, bugs, and frogs. He said he would call it Brook Creek. Others laughed, said Mike's plan was foolishness. Lost is lost." But that didn't stop Mike. He asked friends who had big earth-moving machines – excavators – to come over and help him. They did. Soon Mike found the treasure he was seeking. He brought in rocks so water "could remember" and more rocks so bugs would have a home. Soon dragonflies, stoneflies, and caddesflies were fluttering. Frogs were chorupping. What a treasure Mike had restored. What an ecosystem to enjoy and explore!
Share this book with young readers and then go out for a hike in the woods, follow a creek or a stream. Celebrate Earth Day (April 22, 2017) by giving this book to a child or to a library. What a treasure to share!