Hooked on Reading Series
By Ann Jacobus
People ask, how can we get boys to read? Well, I'm a big believer in series– they are responsible for turning all my children, three boys and one girl, into readers.
When an avid or a reluctant reader either one, finds a book they respond to, it only makes sense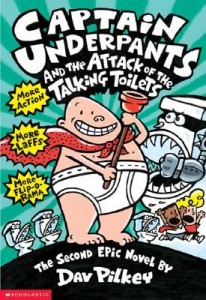 that they would like more of the same.   My youngest son at seven could read tolerably well but was resisting all the books his mother was trying to push on him. Until he discovered, on his own, Captain Underpants and the Attack of the Talking Toilets. He was stretched out on the floor over it, laughing so hard we had to sit him up and slap him on the back to get him breathing again (he breathes just fine otherwise). This child never looked back and reads anything and everything now and I owe it all to Dav Pilkey. He (my son) went on from the Captain Underpants series to Calvin and Hobbes collections, assorted superhero comics, Artemis Fowl, Harry Potter, Eragon, and his current favorite, Percy Jackson and the Olympians.
My oldest son, an avid reader from the start, read every single one of the following series: Hardy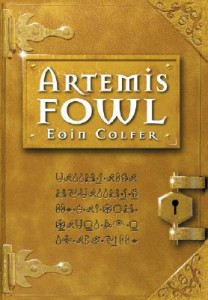 Boys, Animorphs, Everworld, Artemis Fowl, Goosebumps, Redwall, Eragon, Ender's Game, Phillip Pullman's His Dark Materials, and Harry Potter, of course. OK, he may be a tad obsessive, but he deciphered the code at the bottom of all the Artemis Fowl pages and then grew up to be a software engineer.
My second son, more social and active didn't read for pleasure despite our best efforts until, at about age 13, he brought home the first Eragon book from the library.  Over the next several days, he read all three of Paolini's books in the Inheritance Trilogy. He was finally a reader. He's still a more occasional one, but he did read all the Harry Potter books, and now likes Bernard Cornwell historical novels and is a college history major.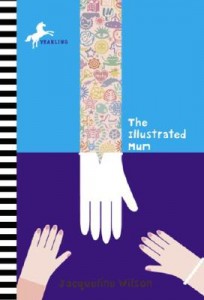 My daughter started with the Where's Waldo and I Spy series. She then read Junie B. Jones, and the Angelina books.  She flatly rejected Nancy Drew and the Hardy Boys, but adored the British middle grade writer Jacqueline Wilson and read almost all of her some eighty books (we lived overseas at the time). They have a realism, and slightly gritty edge—like the liberally tattooed mother in The Illustrated Mum—that really appealed to my daughter. Wilson's Girls series, Girls in Love, Girls Out Late, and Girls Under Pressure, were just a few of the titles this child coveted in late elementary and into middle school. Wilson's books are available in the US, at least on Amazon, if not elsewhere, and we recommend her highly. The Mary Kate & Ashley Olsen books, Lemony Snicket's A Series of Unfortunate Events, and eventually Gossip Girls, and the Twilight series were also favorites.
There's a series out there for everyone. Captain Underpants first struck me as silly and scatological, but I'm not a seven year-old boy. And I've since developed a refined taste for it.  Gossip Girls, among others, eschews values I dislike. Some parents shun comics or graphic novels. But by golly, if my kids have their nose in a book, I say it's all good. With a series, by virtue of the fact that there are more where the first one came from, a kid can get happily HOOKED on reading.
Ann Jacobus has four children and writes and edits young adult and middle grade fiction. She has an MFA in Writing for Children and Young Adults from Vermont College of Fine Arts.