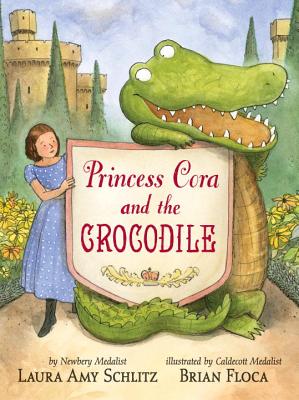 Who says being a princess is so great? Not Cora, the heroine of the silly, delightful book PRINCESS CORA AND THE CROCODILE (Candlewick Press), written by Laura Amy Schlitz and illustrated by Brian Floca. Cora's tired of being good. Her nanny makes her take three baths a day and her mother makes her read dull, dull, dull books about how to run a kingdom. As for her father, the King, he times Cora with his gold watch every day as she runs in circles and skips rope up to five hundred. "A future queen must be strong!" he says. Cora's sick of it all.
If she only had a dog to play with … but no. Her parents don't want the mess and fuss and dirt. It isn't until Cora writes to her Godmother asking for help that her life begins to change. And what a change! It's sheer silliness and anarchy after Cora wakes up to find a box at the foot of her bed with a crocodile inside. Her own crocodile! While it dresses up in Cora's clothes and holds her parents at bay for the day, Cora is free! She climbs trees, makes a fort in the woods, wades barefoot in a stream … and no one tells her not to. The thrill of freedom and doing what she wants is so wonderful, Cora doesn't even mind when she steps in a cow pie in her bare feet.
Every child will delight in this funny book about going against the rules and not being good … even if only for a day. Schlitz, a 2008 Newbery winner (Good Masters, Sweet Ladies!) and author of the historical fiction novel The Hired Girl, has created a silly book that's perfect either for reading aloud or for readers who have conquered early chapter books. Teamed with  Floca's bright and hilarious illustrations (who can resist a crocodile masquerading as a princess with a brown mop for hair and his green tail sticking out the back of her pink dress?), this book will make children laugh and adults, too.