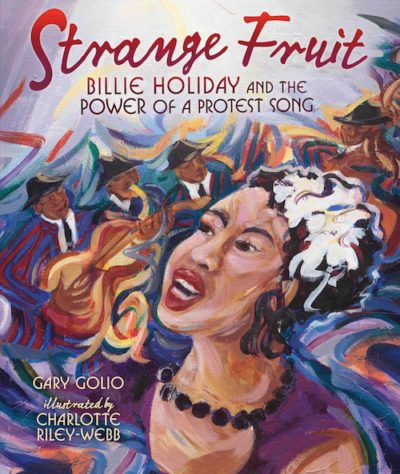 Here is a WOW picture story book and so timely:  STRANGE FRUIT, BILLIE HOLIDAY AND THE POWER OF A PROTEST SONG a book for all ages written by Gary Golio and illustrated by Charlotte Riley-Webb.
What a woman, Billie Holiday. And now, what a book about Billie and the song she dared to sing about injustice. "Strange Fruit" changed Billie's life and Billie Holiday's singing changed the path of civil rights.
What could be in one song to cause a whole nation to stir, to feel uneasy, to LISTEN?
"People had to remember 'Strange Fruit,' get their insides burned by it," stated Barney Josephson, owner of Café Society.
"Strange Fruit" is about lynching. Billie Holiday dared to sing where she wanted, with whom she wanted, and what songs stirred her soul. Café Society was one of the first public places where Black and White musicians and artists performed together. There was nothing like it anywhere in the U.S., certainly not in New York City.
"Strange Fruit" was written by Abel Meeropol, the son of Jewish immigrants. It was the mid-1930's and in America many strong separations and discriminations kept Black musicians from performing with White musicians. Billie Holiday was a rising young star and Artie Shaw dared to hire her as one of the first Black singers to work in an all-white band. "But then everything changed."
Billie was singing in New York City's famous Blue Room at the Hotel Lincoln. She was told not to talk with customers, not to walk anywhere where guests might see her, not to use the hotel elevator but instead use the service elevator … and slink invisibly through the kitchen to get to the stage. Blacks in the hotel were servants, not guests, not performers. Billie was not going to tolerate those rules of discrimination. Billie was going to sing out. Jazz was her love, her passion.
Billie left Artie's band. She was determined to break the "color rules." She was going to perform with "anyone she wanted and everyone could listen to her sing."
Barney Josephson had just opened his own club in Greenwich Village, called Café Society. It was open to everyone. He hired Billie to perform at Society and she was an immediate success. And then an unexpected request – Abel Meeropol had written a song about lynching and asked Barney to have "Strange Fruit" performed. Barney showed "Strange Fruit" to Billie. After she read the powerful words, she agreed. They decided the song would be the final song in her set that night. It was 1939, New York City:
"The night, waiters froze in place. People stopped talking…." Their faces reflected both pain and confusion. What was this strange song about? The song ended. "Then the spotlight went out, and Billie was gone. For a few moments, there was nothing but silence. Finally, one person slowly began clapping, followed by another, until the entire room exploded in applause as the audience rose to its feet."
"Southern trees bear a strange fruit,
Blood on the leaves and blood at the root,
….Here is a strange and bitter crop."
A beautiful inspiring book published by Millbrook Press, Minneapolis, 2017.  Read Gary Golio's other award-winning and unique books about American jazz musicians and vocalists.