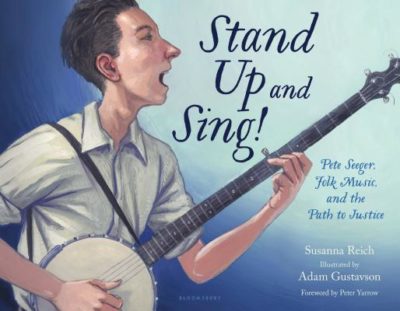 Pete Seeger was born with music in his bones. So begins this inspirational picture book biography about one of America's most famous, beloved folk singers, Pete Seeger, Stand Up and Sing! Folk Music, and the Path to Justice, (Bloomsbury 2017), written by Susannah Reich and illustrated by Adam Gustavson. Seeger came of age during the Great Depression. The joyous music and singing that went on in his family's house was a balm to the impressionable boy who longed to do something about the poverty and injustice he saw all around him in New York City. The first instrument he played was the banjo after he drove with his family to a music and dance festival in North Carolina. The rhythm, melody, chords and words struck something inside him. The older he got, the more he listened to and played all kinds of music: spirituals, work songs, dance tunes, lullabies, ballads – so many kinds that "he played all night, and he played all day," his sister said.
Seeger went on to use his passion for music to instill passion against injustice in tens of thousands of people around the country and world. His songs are used as a rallying cry to this day. Never has there been a better time to introduce young readers to the power of music and the need to address injustice, whenever and wherever they find it.
This book is a lovely addition to the legend of Pete Seeger.