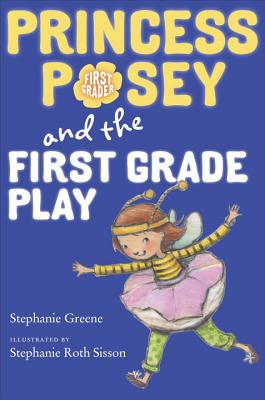 The first graders in Posey's class are reading about bees and plan a play to share what they've learned with the other first grade classes. Caitlyn certainly knows a lot about bees. Her mother's even given her a small yellow eraser in the shape of a bee.  "Who cares about an old eraser?" Posey says to her friends. But secretly, Posey admires the eraser's black stripes and bee wings. She wishes she had one, too.
When Caitlyn is chosen to play the part of Queen Bee that Posey was hoping to get, Posey's heart sinks. It isn't fair, she thinks. Caitlyn gets everything! Then, Posey notices Caitlyn's bee eraser on top of her lunch box. Nobody's watching…Posey can't resist. She picks up the eraser and puts it into her pack. Immediately, she realizes her mistake. What will she do?
Princess Posey and the First Grade Play by Stephanie Greene (G.P. Putnam's Sons, 2017) is the 11th book in the Princess Posey, First Grader, series.
About the series, School Library Journal writes: "Greene's simple writing style and straightforward plot is ideal for advanced first graders or beginning second-grade readers."
Kirkus Reviews has this to say: "Greene doesn't miss a step. Posey is the perfect fictional friend for any first-grade girl."
Don't miss these ReaderKidZ reviews of other books in the series!
Princess Posey and the New First Grader
Princess Posey and the First Grade Ballet