Make room, Elephant and Piggie. Step aside, Frog and Toad. Picture book pals, Buddy and Earl, have arrived on the scene!

When Buddy, an unassuming dog, and Earl, a clever hedgehog, meet in book one of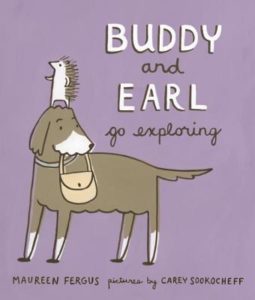 the Buddy and Earl series, all bets are off. The two strike up an unlikely friendship, passing an otherwise uneventful afternoon in a rousing game of pretend. Are they pirates? Racecars? Skyscrapers? Reimagining themselves as all sorts of amusing things, they come to a heartwarming conclusion. What they really are is friends.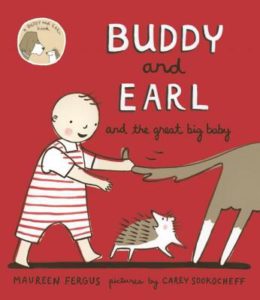 Kids who enjoy the playful antics in BUDDY AND EARL, written by Maureen Fergus and illustrated by Carey Sookocheff (Groundwood, 2015), will also delight in books two and three of the series. BUDDY AND EARL GO EXPLORING (2015) finds these sweet and silly characters adrift on a "wild adventure" in the kitchen at night. In BUDDY AND EARL AND THE GREAT BIG BABY (2016), a neighbor baby's visit results in both fun and chaos for these unsuspecting animal pals.
Both charming and endearing, Buddy and Earl are sure to leave a lasting impression on young readers.
Karen Jameson is a children's author, newly retired teacher and active member of SCBWI. She holds a master's degree in Language and Literacy.  Karen has published a number of nonfiction science articles in AppleSeeds and Ask magazines.  Recently awarded the 2016 Sue Alexander Grant for the Working Writers Retreat (SCBWI LA), she is now living her dream of writing full time.