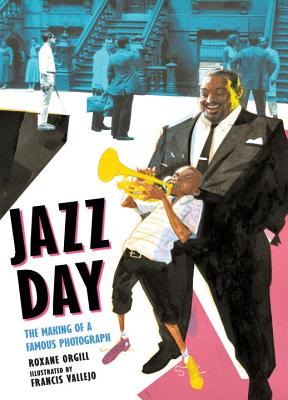 Jazz Day: The Making of a Famous Photograph by Roxane Orgill, illustrated by Francis Vallejo (Candlewick, 2016)
From the flap: "In 1958, Esquire magazine was planning a special issue focused on American jazz. Art Kane, a graphic designer in New York City, pitched a crazy idea: gather as many jazz musicians as were willing and photograph the group. Kane got the assignment – but he didn't own a professional camera, he didn't know how many musicians would show up, and he wanted to shoot the photograph in front of a Harlem brownstone. Would his idea work?"
Kane's idea did work and this book, a collection of poems, recreates that day as it might have unfolded almost 60 years ago! The events of the famous photograph were unique and interesting. Equally fascinating is the story of how this book was made, as told by author Roxane Orgill in her 2916 Boston Globe Horn Book Picture Book Award Speech. Here's a snippet:
When I'm asked how this book came to be, I usually say that I was at a party and a woman I hadn't met before, a person in children's book publishing, said, "Someone should write a book about the famous Harlem jazz photograph."
That's true. But it's not the whole story. Jazz Day began much earlier.
Enjoy illustrator Francis Vallejo's BGHB Award Speech HERE.