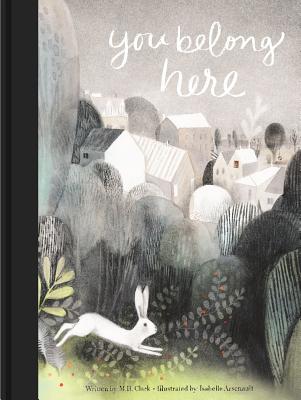 The stars belong in the deep night sky,
and the moon belongs there too,
and the winds belong in each place they blow by,
and I
belong here
with you.
                       — by M.H. Clark
Soothing rhythms calm and reassure young readers in this lyrical picture book about belonging. Whales and fishes, crickets and bees, creatures of sky and earth and sea –  each is captured in this quiet ode to the natural world and the children who inhabit it.
This timeless gem of a book, with gorgeous watercolor illustrations by Isabelle Arsenault (Once Upon a Northern Night, written by Jean E. Pendziwol) in soft shades of grey with spots of delicate blue, green, orange, and yellow, will easily become a much-loved favorite.
***
you belong here by M.H. Clark, illustrated by Isabelle Arsenault (Compendium, Inc., 2016)