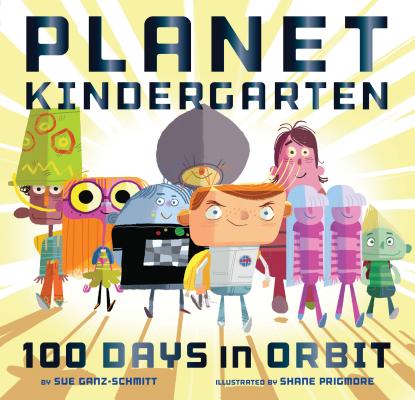 Today, ReaderKidZ welcomes Sue Ganz-Schmitt, author of PLANET KINDERGARTEN: 100 Days in Orbit, illustrated by Shane Prigmore (Chronicle, 2016), a clever book in celebration of all things Kindergarten and all things space!
DIANNE: Thanks for visiting ReaderKidZ, Sue!
Pairing kindergarten and space is pure genius! As the flap copy for PLANET KINDERGARTEN suggests, the book prepares "bold young explorers for their next mission – whether it's a strange, new world, or somewhere much closer to home."
Kindergarten can feel like traveling to a new, unfamiliar world. Can you talk about how these two topics came together for you, inspiring both PLANET KINDERGARTEN and, your newest, PLANET KINDERGARTEN: 100 Days in Orbit?
SUE: Thanks so much Dianne! It all began when I was in kindergarten. There were a number of NASA rocket launches that year that culminated in the landing on the moon. I was inspired (as you can see by this kindergarten drawing – my first space story):
Years later, I watched my daughter and her friends transitioning to kindergarten. One boy was having a really rough go of it. I watched him try to be brave every day. It made me think of the bravery of the Mercury/Apollo astronauts blasting-off to the unknown.
I have had a love of NASA through the years. What has inspired me most about NASA is their commitment to teamwork and the incredible feats they have accomplished by everyone working toward one goal. Two men didn't land on the moon on their own. It took over 400,000 people to get them there. This theme of teamwork shows up in my new book Planet Kindergarten: 100 Days in Orbit. Our hero feels like zero after he tries to go it alone.
DIANNE: The 100th day of school is a BIG deal. Kids and teachers have been marking off the days since the school year began, and everyone anticipates the celebration. It's a day of counting collections, Zero the Hero, and stories that begin, "When I'm 100 years old I will…"
Your newest book, Planet Kindergarten: 100 Days in Orbit, brings the space theme into the Kdgn classroom's 100th day celebration. Reading about kindernauts doing 100 "anti-gravity exercises" and making cereal "medals of honor" brought back memories of my own 100th day celebrations in the classroom. And then, there are the collections kids are asked to bring. I understand there's a story behind the giraffe that makes its way into the main character's collection. Can you tell us about that?
SUE: Yes! I was watching NASA-TV after I had sold this 100-day book to my amazing publisher Chronicle Books. The art (which by the way was created by one of the most talented animators from Disney/Dreamworks –Shane Prigmore) had not yet been created. The astronauts were being interviewed just before heading to the rocket. Astronaut Reid Wiseman was asked by one of his two young daughters how far away he would be up there. It was his first mission. She was nervous and he eased her  fears from across the glass partition. I was touched by that moment He had a giraffe on his desk that clearly belonged to his girls. Later I noticed the giraffe (Giraffitti) swinging around from a tether when the crew's capsule reached microgravity. When Reid emerged from docking with the International Space Station, Giraffitti was hanging out of his pocket. It stayed with him during his entire mission.   It was an ode to his family, and comfort from his family. While astronauts must be brave to go to space, their families must be brave too. They sacrifice a great deal. That giraffe was a connection to home and family. Kindergartners need that connection during those first 100 days of kindergartens as they navigate new territories and new obstacles. So that's how a giraffe ended up in our space book!
DIANNE: Your website says you produce children's musical theater, are a proud member of the Planetary Society, and have your "eyes to the stars!" What can your readers look forward to next?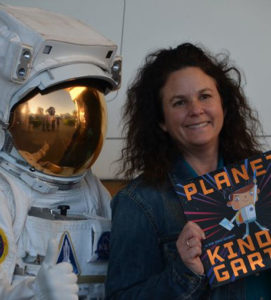 SUE: There is a new space book on the horizon about a curious cow that wants to break from the herd and search for new pastures among the stars.
I have some great projects ahead like going to meet with Congress in DC to advocate for space exploration.
And, I will be taking a brave new adventure to graduate school – where I will be going into the deep space of writing for children and young adults. So maybe there will a Planet Graduate School series ahead!
This has been a fun journey with you Dianne. Thank you so much for your great questions!
DIANNE: Thank you!
Learn more about Sue and Planet Kindergarten HERE. And check out these downloadable DIY projects (courtesy of Chronicle books) for your very own astronaut's space adventures: Rocket Fuel Juice Box Wrap & Snack Bar Wrap.