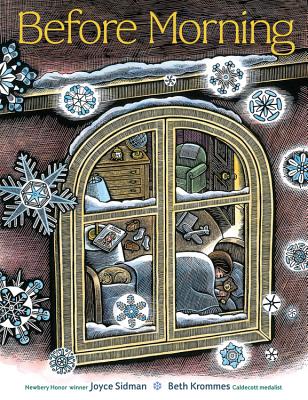 I knew that BEFORE MORNING (HMH, 2016), another gorgeous collaboration of author Joyce Sidman, and illustrator Beth Krommes, would be stunning. I've been a fan of Joyce's poetry for years and have used many of her Poetry Ideas with students. Similarly, I discovered Beth's luminous scratchboard illustrations (years before her Caldecott winning picture book, The House in the Night by Susan Marie Swanson) in another winter-themed book, Grandmother Winter (HMH,1999) by Phyllis Root.
But, I really wasn't prepared for the way I would so immediately fall under the spell of these masters of text and illustration. Before words even arrive on the page, the story begins. Readers are invited into the busy rush of cars and buses and families making their way home at the end of a long day. Turn the page, and there's a bakery, and a baby, and a girl with a red beret. In the warm glow of their home, dinner is waiting. And that's when we notice… a frown. The young girl's mom is a pilot getting ready to leave for work.
We know this family and feel the dread of a ticking clock as the time for mom's departure nears. And then the text: "In the deep woolen dark, as we slumber, unknowing, let the sky fill with flurry and flight." Snow is on its way.
From the flap: "There are planes to fly and buses to catch, but a small child wishes for a different sort of day. As clouds gather and heavy flakes fall, her invocation rises above the sleeping city… sometimes, if spoken from the heart, wishes really can come true."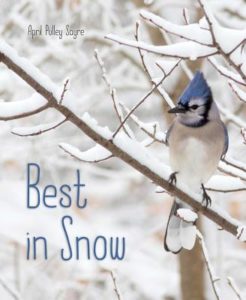 A companion to the lovely, RAINDROPS ROLL (Beach Lane 2015), BEST IN SNOW by April Pulley Sayre (Beach Lane/S&S, 2016), is a poetic and photographic tribute to the wonder of winter, and the sparkle of snow as it quickens and thickens, clumps and clings, softens to a slushy, mushy mess and then …  "Another freeze. Another breeze. Another cloud. It snows."
Good books and snow. Snow and good books! What are you wishing for?