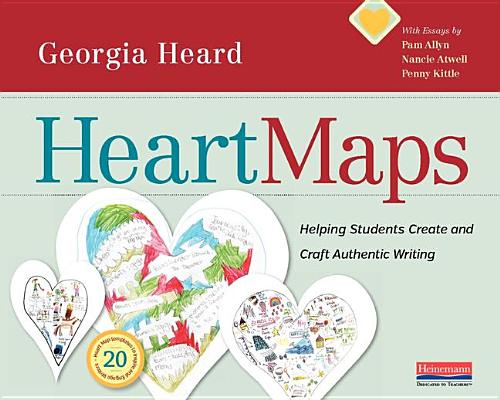 Heart Maps: Helping Students Create and Craft Authentic Writing (Heinemann, 2016) is Georgia Heard's newest book and while I haven't had time yet to dig deeply into my personal copy, it seems an appropriate book to suggest for teachers looking for ways to help students make sense of the events in our world.
Maps have been part of Heard's life for a long time. She grew up in a home with an antique world map hanging on the wall and her older sister and two cousins actually became mapmakers. It's not surprising, then, that Heard became, in her words, "a cartographer of the heart: mapping out inner territories with words – and helping others do the same."
The book provides 20 types of heart maps, from "Small Moment" maps to "Last Time" maps, to "Be the Change that You Wish to See in the World" maps. Doesn't that sound perfect? In an interview, Georgia says, "I want students to know that words have the power to make something happen. Whether it's personal change or change in the world." Wise words for these days.
Each map includes an Introduction, a Try This  section with tips and suggestions to get you started, a Template (with a link to a downloadable master), Writing Ideas for digging deeper, Student Examples, and Mentor Text suggestions in multiple genres.
Check out this short Heinemann PODCAST in which Heard talks about how to use heart maps to inspire students as they dig deeper into the stories they need and want to tell.
"Heart maps are a concrete, visual tool to help writers, no matter what age, discover and ultimately write about what they've stored in their hearts. People they love, memories, meaningful experiences. But it's not just a topic list… that they then check off as they write. It's the experience of and process of heart mapping that's really kind of magical and a little mysterious."
– – Georgia Heard
"Fill your paper with the breathings of your heart." 
                – – William Wordsworth