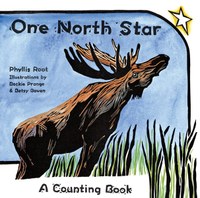 ONE NORTH STAR, A COUNTING BOOK  By Phyllis Root and illustrated by Beckie Prange and Betsy Bowen
ONE NORTH STAR is so much more than a counting book, it is visual and poetic trip through Minnesota's "bog and marsh, along river and lake, across prairie and into woods." The images and words compliment each other as we count our way through several ecosystems and seasons – their plants, animals, earth and star formations. High up in the sky the one North Star is our starting point and our guide. Then pull on your boots, take along backpack and binoculars, and get ready to hike, fly, swim, perch, and even take root! Onward to FIVE:
Five walleyes fin near wild rice
four blue flag irises flower
three mudpuppies wriggle
two loons call
one porcupine sleeps in a jack pine tree
all along a lake
under one north star.
The pages are filled with accurate illustrations and the book is brimming with facts and details about these Midwestern ecosystems highlighting the plants and animals that make their homes there.
This picture book is the creation of three talented women: Phyllis Root is the author of more than forty books including Plant a Pocket of Prairie and One Duck Stuck. Beckie Prange is a biologist and printmaker and illustrator of the Caldecott Honor winner, Song of the Water Boatman. Betsy Bowen has authored and illustrated a number of books including Phyllis Root's Big Belching Bog. The University of Minnesota Press, publisher, has given children and adults another engaging, beautiful book to learn from and enjoy.