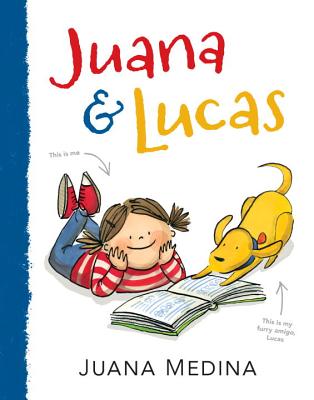 I wonder if young readers have ever considered how hard it might be for a child from another country to learn English. Very hard, if you believe Juana, the young, feisty heroine of this charming chapter book. Written and illustrated by Colombian-born Juana Medina, Juana & Lucas (Candlewick Press 2016) is chock full of the kinds of details any child will identify with. Juana loves drawing and Astroman and Brussels sprouts, but she "strongly dislikes" the itchy uniform she has to wear to school. Playing futbol while wearing it is the worst. She loves Lucas, "the most amazing perro ever born." He walks her to and from the bus and he's great at the game of spies – no matter where Juana hides, Lucas finds her. He listens to all of Juana's stories, too, even if they're long, and he eats math homework "like a pro." She also loves her Mami, who is very brave and strong and smells "fresh as mint and warm as cinnamon." But most of all, she loves Bogotá, Colombia, the city in South America where she lives. "I love Bogotá. LOVE. IT." No wonder. It's a city of parks and bike trails and beautiful weather and trees. Best of all, according to Juana, "Everyone speaks ESPAÑOL!" That's Spanish, which is what Juana speaks.
So imagine how Juana feels when her teacher tells the class on the first day of school, "Today we are going to begin learning the English!"
The English?? Juana wants nothing to do with the English. It's too hard! Her tongue tickles with all the Th sounds. Words like read and read are spelled the same but pronounced differently. It's hard to remember LEFT and RIGHT. UP and DOWN. And what about left hand and left the room? Rarely has watching a child grapple with a tough subject been as much fun as following Juana in her struggle. But learn the English she must, if she wants her grandparents to take her to Spaceland in Florida to meet the real Astroman!
By the end of this funny, lively story, Juana has learned a healthy amount of English and discovered that knowing how to speak it – or knowing how to speak any language used around the world – will open doors to her that would otherwise remain shut. Young readers who have come to appreciate that children who live in other countries and speak other languages are exactly the same as they are, might discover they've learned a healthy amount of Spanish, too.