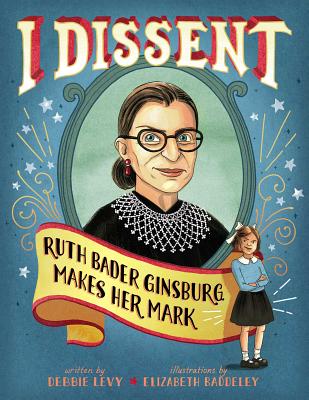 I DISSENT, RUTH BADER GINSBURG MAKES HER MARK (Simon & Schuster, 2016)
"Speak purposefully and carry a big legal pad. . . . Read this and be inspired to work for justice through the legal system." (Kirkus Reviews)
About this picture book biography of Ruth Ginsburg, I don't dissent, I agree. This is a powerful, important book written by Debby Levy and illustrated by Elizabeth Baddeley. This biography is an excellent, visual way to introduce young readers to our judicial system and the power of an individual committed to honesty and justice. I DISSENT is also a timely introduction to older readers of the importance of meaningful debate and the third branch of our federal system, the Supreme Court. How timely!
Enjoy this sampling of  Ginsburg's quotes:
My mother told me to be a lady. And for her, that meant be your own person, be independent.
The state controlling a woman would mean denying her full autonomy and full equality.Women will only have true equality when men share with them the responsibility of bringing up the next generation.
Debbie Levy has written several other powerful nonfiction narratives for children: We Shall Overcome: The Story of a Song, Dozer's Run: A True Story of a Dog and His Race, plus a variety of other books. She is a former lawyer and newspaper editor.
Elizabeth Baddeley has illustrated several biographies of strong women who have made an important mark: A Woman in the House (and Senate) and Women Who Broke The Rules: Mary Todd Lincoln.
One reviewer of I DISSENT wrote "Reading this to my daughter was so great, so powerful- thank you so much to both author and illustrator for this portrayal of an American treasure. This book is simply lovely." From Amazon
I DISSENT inspired me to read more, more, more about this strong amazing woman who has been committed to upholding the best of our American values described by our laws and constitution. Next book I shall read is MY OWN WORDS by Ruth Bader Ginsburg herself,  and just out this month.
One more review to think about – and then request this book from your local library or independent bookstore:
"Baddeley and Levy [. . . .] demonstrate how disagreement can lead to meaningful discussion and doesn't have to be personal. This lively, inviting, and informative biography of a historic woman will empower young ones to bravely voice their opinions." (Booklist, STARRED REVIEW)