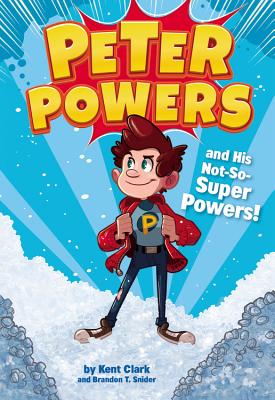 PETER POWERS and His Not-So-Super Powers by Kent Clark and Brandon T. Snider, illustrated by Dave Bardin (Little, Brown and Company, 2016)
Peter Powers comes from a "Super" family. Mom, Dad, older brother, Gavin, younger sister, Felicia, and Baby Ben each have an amazing superpower. Peter has powers, too, but his super power is, well, "reeeally embarrassing." All Peter can do is make ice cubes with his fingertips. Doesn't seem like much of superpower, does it?
Fortunately, Peter's family and best friends Chloe and Sandro – the only people in school who know Peter's secret – are there to help. When Peter – desperate to prove that he's just as capable of saving the town from Captain Tornado as the rest of his superhero family – comes up short, it's his family and friends who rally round to give him the courage to be the superhero he was meant to be.
Peter Powers is a Superhero to watch! Look for Book 2, Peter Powers and the Rowdy Robot Raiders , coming in December.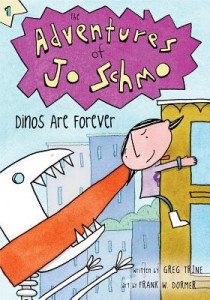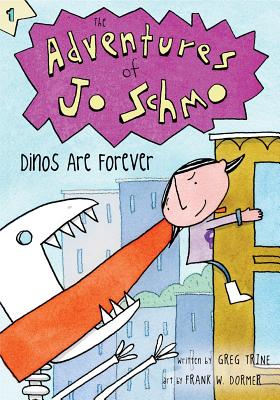 THE ADVENTURES OF JO SCHMO: Dinos Are Forever (HMH, 2014) by Greg Trine, illustrated by Frank W. Dormer
Readers of author Greg Trine's Melvin Beederman series are in for another treat. Say hello to Jo Schmo, a normal fourth grade girl who's content doing normal fourth grade things until the day a mysterious package arrives. Jo comes from a long line of crime fighters and even though she'd expected that one day she, too, would wear a badge, she didn't expect it to happen quite this way. "Jo Schmo, Crime Fighter, did have a certain ring to it. But Jo Schmo, Superhero?" 
Readers will enjoy following Jo and Raymond, her loyal dog and sidekick, as they track down a pair of "Bank Robber School of America" graduates and later wrestle up Dr. Dastardly and his assistant just in time to save the city from a dinosaur take-over .
Paired with Dormer's energetic illustrations, Jo Schmo is a perfect series to hand to transitional and reluctant readers looking for a laugh and a quick, fun read.  And don't forget to check out other books in the series:   WYATT BURP RIDES AGAIN, SHIFTY BUSINESS and PINKBEARD'S REVENGE.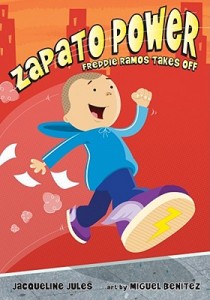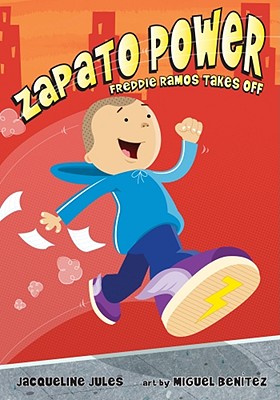 ZAPATO POWER by Jacqueline Jules (Albert Whitman & Company, 2011)
Freddie Ramos is a good son, a regular boy, and one especially busy hero! In Freddie Ramos Takes Off, Freddie's life suddenly changes when a box arrives at 29 G,  Starwood Park Apartments. Someone has given Freddie a pair of purple sneakers with silver wings. No ordinary shoes, these Zoom! Zoom! Zapato!-powered tennies give Freddie super speed.
In each subsequent book of the series, Freddie's super powers increase. In book 2, Freddie Ramos Springs Into Action, inventor and Starwood Apartment manager, Mr. Vaslov, develops a wristband with an on/off switch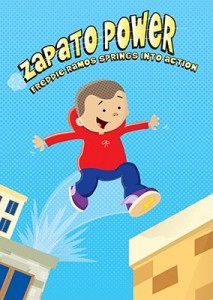 and jumping Boing! power that allows Freddie to expand his superhero abilities.
In book 3, Freddie Ramos Zooms to the Rescue, new silver goggles, along with Freddie's usual dose of smarts, help Freddie solve the mystery of the purple squirrel and save a speeding commuter train from imminent disaster.
Jacqueline Jules has created a likable character that kids tackling their very first chapter books are sure to relate to. Freddie's good heart, and readiness to use his Zapato Power! to help others makes Freddie the best anonymous super-hero Starwood Elementary has ever seen.