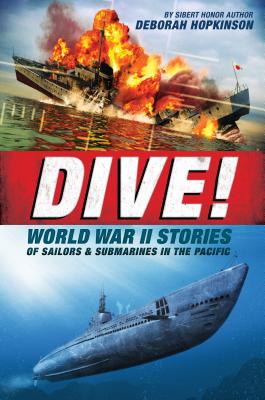 DIVE! World War II Stories of Sailors & Submarines in the Pacific: The Incredible Story of U.S. Submarines in WWII (Scholastic Press, 2016)
Day of Infamy – the bombing of Pearl Harbor, Hawaii. The United States declared war on Japan. How many naval submarines were ready for battle when war was declared? 44 subs, total. Most of them were built decades earlier, in the 1920' s for WWI.
Author Deborah Hopkinson weaves a deep background of battle, mechanical, and naval information while bringing history alive through the individual stories of a diversity of sailors and commanders – women and men. Any reader interested in battle strategy or war history will find technical, historical, and personal information told with great care for detail and accuracy – plus the human aspect of war.  This nonfiction book, for middle grade readers, ages 8-12, is a page-turner!
From School Library Journal:
"…. An account of the USS Wahoo's stealth entry into Wewak Harbor on New Guinea, using a map found in a high school geography textbook, and its successful sinking of a Japanese destroyer is as gripping as any thriller … Readers are always aware of the intensity of submarine warfare and the massive human toll. One chapter closes with a poignant unsent letter from a wife to her husband lost in battle. Sidebars complement the narrative with, for example, a colorful description of an officer's effort to have an ice-cream maker installed in his sub…."