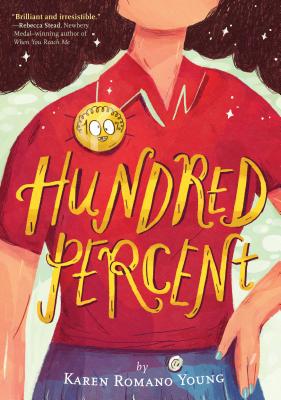 Recently, I was in the grocery store choosing peaches and standing next to another mom who was also shopping. Beside her stood a very bored, very impatient daughter with braces shining on her teeth, a few powdered-over pimples, and a BIG frown. She was not a happy camper until… a sweaty boy in a soccer uniform sauntered by. Their eyes met. The daughter blushed, stood taller, smiled. The boy picked up a peach … and then …
Oh the drama! In HUNDRED PERCENT, Karen Romano Young captures the voice, the humor, and the angst of a girl beginning her last year of elementary school – no longer a kid, but not quite a woman. Wearing a bra, but not really needing one. Having a "forever" best friend… who no longer speaks to her.
Christine Gouda, our heroine, has a unique, honest, and authentic voice, easily recognized by anyone who is – or was –"in between." All around her, Christine's world is changing. In spite of the turmoil, confusion, and drama, she begins to realize that SHE is in control of something important – who she wants to be.
School has begun and it's the perfect time to kick off the year with Karen Romano Young's newest: HUNDRED PERCENT. While you're at it, check out her many other delightful books, including the graphic novels, DOODLEBUG and STUCK IN THE MIDDLE (OF MIDDLE SCHOOL).
What others are saying:
"Readers will cheer for the sensitive, brave, fierce Tink as she tries to discover, and ultimately honor, herself."–Shelf Awareness for Readers, starred review
"Perfectly captures the emotions of middle schoolers and their evolving friendships and familial relationships."-School Library Journal, starred review
"A lovely, lovely tale full of warmth, humor, and intelligence."-Kirkus Reviews, starred review