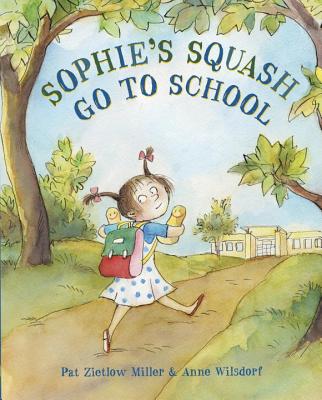 Two new books have recently hit store shelves and both are excellent additions to classroom, home, and library back-to-school collections: SOPHIE'S SQUASH GO TO SCHOOL by Pat Zietlow Miller, illustrated by Anne Wilsdorf (Schwartz and Wade, 2016) and SCHOOL'S FIRST DAY OF SCHOOL by Adam Rex, illustrated by Christian Robinson (Neal Porter Books, 2016).
Fans of Wherever You Go, illustrated by Eliza Wheeler, will remember Miller's first book, Sophie's Squash, the adorable story about a tender relationship between young Sophie and her best friend, Bernice, a yellow squash.
In the follow-up, Sophie's Squash Goes to School, Miller has outdone herself. It's the first day and Sophie's understandably nervous. "Kids were everywhere. Talking. Laughing. Bouncing." Though her mother and father try to assure her that she'll make lots of friends and have tons of fun, Sophie isn't convinced. The chairs are uncomfortable, the milk tastes funny, and no one appreciates her two best (squash) friends, Bonnie and Baxter. Worse, Steven Green seems anxious to please. He hovers around Sophie, offering up his best friend, Marvin a stuffed frog he's had since Marvin was a tadpole.
Although Sophie insists on keeping to herself and playing with only her two squash friends, Steven is always nearby. He seems friendly enough, but Sophie's not having any of it. When it's her turn to show-and-share, Steven helpfully chimes in with an interesting fact about squash. Will Sophie's heart begin to soften just a tiny bit? After all, Bonnie and Baxter will soon return to their garden bed for a long winter's nap.
Sophie's more than proved herself as an expert at growing (literally) new friends, but will she be able to figure out how to grow human friendships? Lovely language and illustrations pair with a rich story that kids will adore.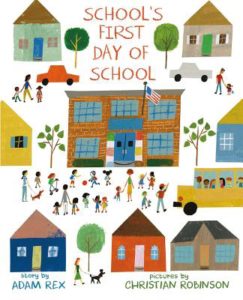 When it comes to first days at school, we think of the children. Will they like the other kids? Will they have fun? What will they learn?
In SCHOOL'S FIRST DAY OF SCHOOL, School is the one who doesn't know what to expect. He's never had students in his rooms or on his playground before.  Janitor is quick to reassure…  "Don't worry – you'll like the children." But the "school thought that Janitor was probably wrong about that."
By the end of the day, School's (accidentally) had a fire alarm, learned about shapes in the Kindergarten class, and even heard a funny joke in the cafeteria. The first day jitters have calmed and things are looking up. Can Janitor invite all the kids – especially the little freckled girl who drew School's picture –back the following day?
Kids and teachers will enjoy this unique twist on the first day of school.
Do you have some back-to-school favorites? Share them in the comments!