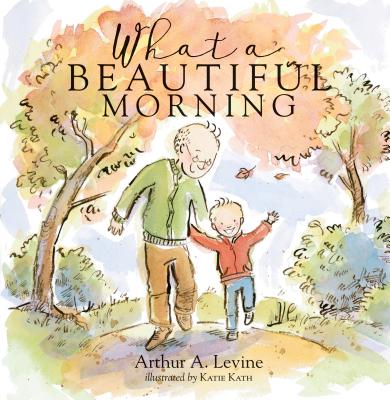 This book by Arthur A. Levine and illustrated by Katie Kath will bring a beautiful morning to you.  The subject of this picture book, WHAT A BEAUTIFUL MORNING, is a difficult one. Noah experiences the sudden and confusing changes in his grandfather as grandfather begins to lose his physical, emotional, and mental abilities. No longer do the two of them begin a summer day with walking the dog and splashing through puddles while grandfather sings silly songs about boats and beaches, raincoats and galoshes. The unfolding of the story from the child's perspective is poignant and honest. Text and images show the grandchild's confusion and bewilderment about what is happening to Grandpa, but also the love and delight they shared – and then the discovery of what they still can share – music!
The author, Arthur A. Levine, has written poetry and picture books for young readers – books full of heart and hope.  He is also the editor and publisher of many books enjoyed by readers of all ages including the J.K. Rowling's Harry Potter series.  The illustrator, Katie Kath, has created the images for a number of award-winning books and writes that "she cherishes the memory of making music with her own grandparents, sitting at their ancient pianola and trying to get it to play the torn-up scroll of 'Don't Bring Lulu.'"
Enjoy this beautiful book published by Running Press, and then enjoy sharing special grandparent memories with who ever is snuggled next to you or sitting on you lap.