Woohoo, summer is here! As a librarian and newly minted author living and working in Hawaii, I invite you to join me in sampling a few picture books for our youngest readers from the Aloha State. So bring your keiki (children), a cool drink, and find a shady spot where you can enjoy these Hawaiian titles. – Christin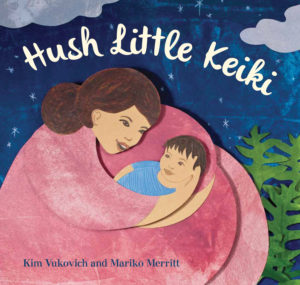 Hush Little Keiki is a Hawaiian version of the familiar lullaby, Hush Little Baby. Rendered in watercolor and collage on fold-out board pages, this gentle lullaby introduces young readers to Hawaii's natural world. You won't find a mockingbird or diamond ring in this version; instead, humpback whales dance, geckos play hide 'n seek and sweet papayas are served as a special treat. This one is perfect for bedtime, naptime or any quiet time of the day.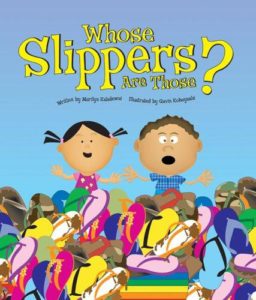 Ok, so I'm a bit biased on this one! When I was preparing themed storytimes every week as a Children's Librarian, I found there were very few picture books written for our youngest readers (and pre-readers) with a Hawai`i setting. One standout title, Whose Slippers Are Those? by Marilyn Kahalewai, inspired me to write my own story. Her book was all about various types of slippers (flip-flops); every time I read the book to children, they listened with rapt attention, looking for the slippers that matched their own. Similarly, Island Toes, illustrated by Mariko Merritt is simple, rhythmic and relatable. It details the busy lives of toes, through situations and activities Hawaii's kids know best: swimming, surfing, hula, etc.
But it's also for kids unfamiliar with Hawai`i or for those preparing a summer trip to the islands. There is an illustrated glossary that explains the Hawaiian words used. At the very end of the book, readers can stamp their own toes onto the pages as a fun, summer activity. I hope you enjoy Island Toes as much as I enjoyed writing it!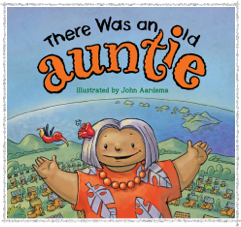 Speaking of toes and slippers, I also have to recommend a cute Hawaii retelling of "There Was an Old Woman Who Lived in a Shoe". There Was an Old Auntie (BeachHouse Publishing, 2009), begins with "There was an old auntie who sailed a canoe from Hana to Hilo then Kalamazoo. Far from Hawai`i, what could she do when she saw people living in old leather shoes?" When auntie discovers her new house is a blue suede shoe, all dark and dim, she calls in a local construction crew to help with remodeling. Bringing in ti leaves, palm trees and room for a lanai, she transforms her home into Hawaii's footwear of choice, a slipper.
Happy summer reading and aloha to you!
CHRISTIN LOZANO has worked with children and books for the past 15 years.  Currently, she works as a reference librarian at Kaimuki Public Library in Honolulu, Hawaii.  When not at the library, she can be found sharing great books with kids at various schools and events around the island.  You can find her on Facebook or Twitter (@ChristinLozano).