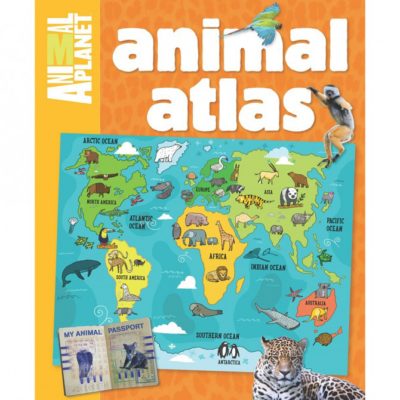 Most kids are familiar with the Discovery Channel's, Animal Planet, but I, for one, had not known about their collection of books and resources.  ANIMAL ATLAS (Animal Planet, 2016) is one of their newest offerings and an excellent introduction to animals from all around the world.
The book is a good size – 13" long x 11" wide – well organized and perfect for a young reader who wants to stretch out on the floor, with the book wide open, ready to lose him or herself within the book's pages.
Kids start their journey, in chapters designated for each continent, with a large map of the area divided into the various biomes found there. In each section, kids are introduced to a small group of the many animals from that region. Each animal is brought to life with a stunning photo and short, descriptive paragraph. Kids will be familiar with the some of the featured animals, and others will be less familiar or, even, unknown. There is also a special "tour guide" – an animal from the region – who chimes in on every two-page spread to share "insider tips" and interesting facts about one of the animals living in that particular biome, on that particular continent.
On many pages, a sidebar titled "ROAR" indicates a section that discusses conservation and animal rescue efforts around the globe. Another sidebar titled "Surprisingly Human" describes ways particular animals are similar to humans.
At the end of each section is a piece called "Where in the World?" which focuses on one well-known animal. Asia, for example, spotlights the Sumatran Tiger. A sidebar includes additional information, in this case, a map showing where in Indonesia these tigers can be found.
If you're looking for a child-friendly overview of animals from around the world to include in your home, classroom, or school library, choose this book! You won't be sorry. And… don't miss this useful GUIDE, aligned to CCSS!
A review copy of this book was provided by the publisher.