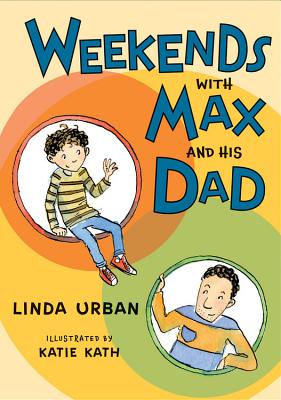 WEEKENDS WITH MAX AND HIS DAD by Linda Urban
Max and his dad are navigating new territory. Dad's moved to an apartment and Max is spending the weekend there for the very first time.
"It is very clean," said Max. He thought that sounder nicer than saying it was very white…

"I haven't had much time to unpack," said Dad.

He showed Max a white bedroom with white walls and lots of cardboard boxes and a mattress on the floor…
Of course, an apartment is different from the house where Max lives with Mom during the week. The house where Dad used to live… Still, as hard as that reality might be, it's clear from the very first pages that Max and his dad will find their way through this new turn of events. There will be pineapple pancakes, new friends, and general, all-around silliness at Ace's Coffee Shop, just down the street from Dad's new apartment. There will be friendly neighbors like Mrs. Theodosia Tibbet, 302, and her two sturdy basset hounds, Barkis and Peggoty. And there will be sleepovers with Max's best friend, Warren.
Organized into three sections with multiple chapters, each section corresponding to a weekend Max spends with Dad, WEEKENDS WITH MAX is an illustrated (by Katie Kath) chapter book with a full measure of heart. Sure, Dad is still finding his way through this new chapter of life but, together, Max and Dad are making a decent go of things. When Dad, in the very last pages, asks, "Should we clean up a little?" Max nods, agreeing to put his school things away in his room. "My room, thought Max. My room. In our apartment."
It's a turning point. Max had "two places to sleep. Both were safe and both were good. Some days were house days and some days were apartment days. But both were home."
What a nice way to end.
More books about Max, Dad, and Mom are planned. While you're waiting, don't miss THIS ReaderKidZ interview with author, Linda Urban, about MAX and another highly recommended book,  MILO SPECK: Accidental Agent.