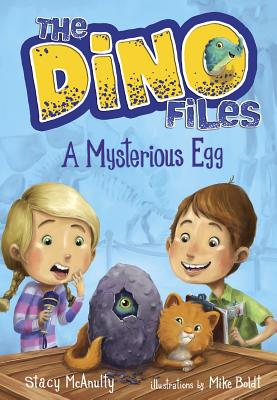 The Dino Files: A Mysterious Egg by Stacy McAnulty, illustrated by Mike Boldt (Random House, 2016)
Frank's grandparents own the Dinosaur Education Center of Wyoming and each year he gets to spend the entire summer vacation there, without his parents.  There's nothing better than helping Gram in the field. Unfortunately for Frank, a bad case of sunburn means the dig site is temporarily off limits. He's stuck inside the museum helping PopPop. To make matters worse, his cousin Samantha McCarthy is there, being her usual annoying self.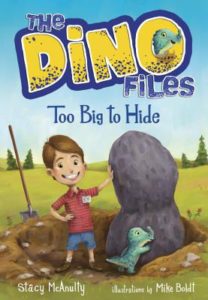 Just when Frank thinks he can't stand another second, Gram bursts through the museum door with surprising news. She's found a dinosaur egg! Sam and Frank hop in the back of Gram's truck and the adventure begins. Frank and Sam soon have a cute little dinosaur – Peanut – on their hands.
This engaging chapter book series will keep kids turning the pages from start to finish. Book 2, Too Big to Hide is currently out, and Book 3, It's Not A Dinosaur, arrives on shelves in October.
Visit The Dino Files website HERE.
Enjoy 10 Dino Files Fun Facts HERE.