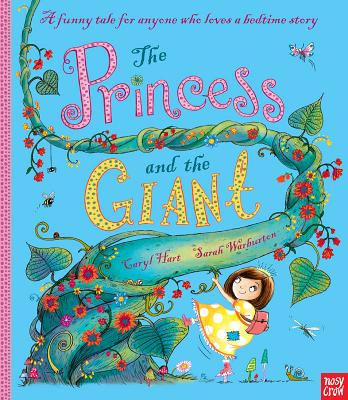 It's a pleasure to welcome Megan Fink back to ReaderKidZ with more terrific reading picks.
Younger Readers
The Princess and the Giant by Caryl Hart and Sarah Warburton (978-0763680077)
A charming fairy tale retold for today's young girls a la Jack and the Beanstalk but with a new twist on friendship saving the day. Sophie is a sprightly inspired heroine princess who teaches the beanstalk's giant about the joys of reading to calm him down. She saves the village from any frightening encounters with warmth and friendship and giving the giant a chance to rest with a bedtime story.  The colorful illustrations travel across the pages with lots of actions and small details, such as the party scene, and are interspersed with the text. The fanciful faces by Warburton capture a fairy-tale meets everyday girl. And "I think I've done it!" Sophie cried. "Our problems are no more. The poor old giant couldn't sleep. Now listen to him snore!" Your child will laugh and enjoy Sophie's antics in this amusing re-telling of a classic fairytale.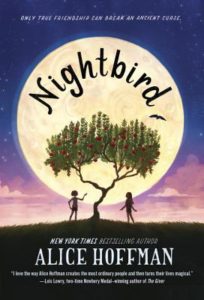 Middle Readers:
Nightbird by Alice Hoffman (9780385389617)
Twig's family suffers from an ancient curse and thus her whole life she has been on the run from the truth and hiding from friends getting too close. Her secret brother must remain hidden from the townspeople, who are afraid of the "monster" in the dark woods. Also, developers are threatening the owls who live there and Twig begins finding clues to who the "monster" really is in town. When Twig and her mother discover an opportunity to break the curse, she sets out on a journey of self-discovery and magic.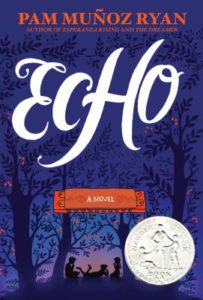 Older Readers:
ECHO by Pam Muñoz Ryan (978-0439874021)
"Your Fate is not yet sealed. Even in the darkest night, a star will shine, a bell will chime, a path will be revealed." So read the opening words of ECHO by Pam Munoz Ryan
This enchanting story defies genres as it weaves together the lives of three children and the gift of music. The story opens with a magical harmonica, which makes it a part of the fantasy genre. Later, the harmonica is passed along to Freiedrich in pre-WWII Germany, Mike in Pennsylvania during the Great Depression era and Ivy in California during WWII. These three characters delve into historical fiction depictions of challenges and how the main characters can overcome their fears with the help of the magic harmonica. This magnificent story keeps you guessing on how the stories are related and what happens to the characters in the ending. If you love music and mysteries you will enjoy ECHO to the final pages.
Megan Poynter Fink is a middle school librarian at Charlotte Country Day School. She began her career working in publishing and for the New York Public Library. She is an active member of YALSA and has served on YALSA's Award for Excellence in Nonfiction for Young Adults, Teen Read Week and Best Books for Young Adults committees. Megan has written for VOYA and BOOKLINKS magazines. She enjoys cooking, Zumba classes and city adventures in Charlotte, NC.