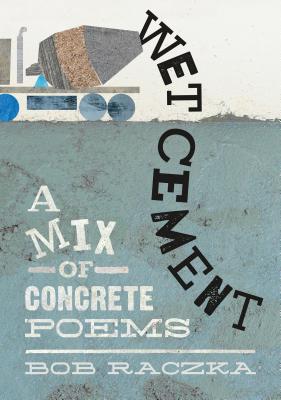 WET CEMENT: A Mix of Concrete Poems by Bob Raczka
Bob Raczka seems the kind of poet and artist who loves taking the phrase "playing with words" and turning it on its head. In his newest, WET CEMENT, he writes:
I like to think of poems as word paintings. A poet uses words like colors to paint pictures inside your head.

In concrete poems, or shape poems, the words also paint pictures on the page…

But here's what's really cool: by cleverly arranging individual letters, you can also paint a picture on the page with a single word… the letters become your colors.
Suffice to say that, in this collection, Razka plays with words in a whole new way.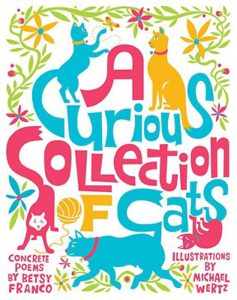 A CURIOUS COLLECTION OF CATS by Betsy Franco, illustrated by Michael Wertz
I'm allergic to cats so can't consider myself a fan of the living, breathing animals, but, oh – how I LOVE this collection of 30 original visual poems! Celebrating cats in all their feline fickleness, this collection of part shape poems, part graphic celebration, is a delight. Two of my favorites? "Shadow's Dream" and "A Question for Scooter About Squirrels."  Do check out A Dazzling Display of Dogs and A Spectacular Selection of Sea Critters.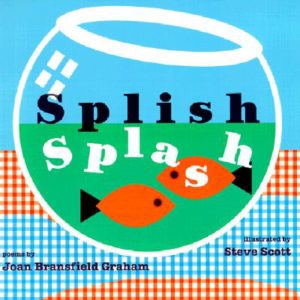 SPLISH SPLASH, by Joan Bransfield Graham, illustrated by Steve Scott
Shape poems about all things water – "Clouds", "Ocean", "Dew", "Hail", "Steam" and so much more.  Here's a peek at the opening poem:
Water

Water is a magic potion

It can fill a glass, an ocean….

rain and snow, ponds and brooks,

water has so many looks…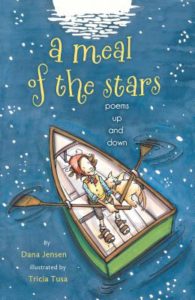 a meal of the stars: poems up and down by Dana Jensen, illustrated by Tricia Tusa
These one word per line poems move vertically – sometimes up the page, sometimes down – to capture small moment images in ways that inspire the reader to look at the world with new eyes. Can you imagine a giraffe with a neck so long it seems it could make a meal of the stars?  How about a grandfather's grandfather clock that is taller than grandfather? Or the bongs of far-off bells that float and touch us with song?
Share these poems with students and then have them brainstorm their own list of words from which to write a poem in the style of Jensen.