Songs have many of the same attributes as picture books – rhythm, repetition, rhyme. Like picture books, they're written to be sang (read) and performed (shared aloud). Which is one of the reasons that Emily Arrow's new CD of Kid-lit tunes is such a treat. A collection of picture book-inspired and kid-friendly songs, Storytime Singalong Vol. 1 is perfect for classroom teachers, librarians, parents, story times, and more!
DIANNE: You're both a musician and a songwriter. Your newest project – songs inspired by picture books – makes a lot of sense, given your experience as a K-6 music teacher. When I think about it, though, it's more common to find the reverse – familiar songs to which illustrations have been added so that the lyrics can be made into a picture book. Which begs the question – how did you get started on this journey of pairing a song you've written with a favorite picture book?
EMILY: As a music educator, I was always looking for ways to tie in my passion for children's literature. And after scouring the internet for resources, I decided to just create my own! Which snowballed into tons of songs about all of my favorite stories that I began singing at local children's bookstores.
DIANNE: Many of your songs can be found on your youtube channel. At what point did you begin to consider making videos and taking your songs beyond the classroom, library, and bookstore walls?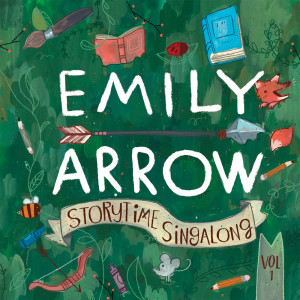 EMILY: I think it's important for artists to make art for our own happiness. But sometimes, there's a giant tug to share it and hope it will lead to even more happiness out there. And I think one of the best platforms for my style of music to be shared on is YouTube. It's easily accessible by the teachers and parents who are sharing my videos with their students and kiddos! 
DIANNE: How do YOU get started writing a new song? Do you sit down at the piano, pick up your guitar, hear a line of notes in your head? What's your process? Words first? Music first? Or does it depend on the book/song?
EMILY: Sometimes I co-write songs with other songwriters and that process is super fun and collaborative. But when I wrote alone, I sit on my bedroom floor with an open notebook, pencil, ukulele, and the book I'm writing a song about. I read the book over and over and over and write on the pages which section of the song I want them to be (I know, very taboo!) For example, when I was writing LOUISE LOVES ART, I circled the words, "so much to draw, so little time!" and wrote next to them: Chorus. Then I pick up my ukulele and create a sound palate to match the illustration style of the story. Once I feel like I'm really connecting with the book's message and concept, I begin singing lyric bits and adding fun interactive elements.
DIANNE: What tips can you give kids if they're interested in writing their own songs, perhaps even those inspired by a story they've written?
EMILY: A few tips: use some fun recording tools like voice memos and garageband to remember your ideas and try co-writing a song with a friend!
Enjoy the song based on Peter Brown's book, THE CURIOUS GARDEN, and then, hop over to the John Lennon Songwriting Contest and vote for Emily HERE!