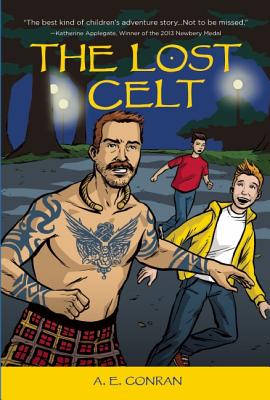 THE LOST CELT written by A.E. Conran, Gosling Press, 2016,  is a treasure of an adventure story with heart, perfect for a middle-grade reader who also loves video games.
"The best kind of children's adventure story …. Not to be missed." Katherine Applegate, Winner of the 2013 Newbery Medal
THE LOST CELT is a page-turner hero's tale full of mystery and adventure. This middle-grade book shows it how it is to be a fourth grade boy who is hooked on video games plus time-travel adventures. The reader follows Mikey's quest to solve an amazing riddle that threatens his safety and survival.
The book also touches upon some of the current challenges that our veterans face. This deeper story layer never slows down the action nor becomes didactic, but introduces an awareness of harsh realities faced by many veterans of war – past and present. Full of heart, The Lost Celt, shines a gentle light on contemporary problems while the humor and mystery captures and holds the interest of young readers.
THE LOST CELT is full of family, fun, and heart, with a wonderful roller-coaster ride of page-turning action.