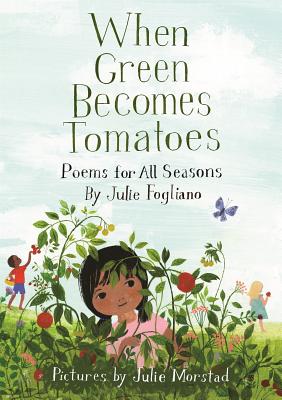 Here are some of my favorite books about nature and all things GREEN!
When Green Becomes Tomatoes: Poems for All Seasons by Julie Fogliano, illustrated by Julie Morstad (Neal Porter Books, 2016)
Julie Fogliano is one of my favorite picture book authors. Her newest, just out this month, is a collection of poems that capture seasonal moments throughout the year. Here's a peek at the first poem:
march 20
from a snow-covered tree
one bird singing
eat tweet poking
a tiny hole…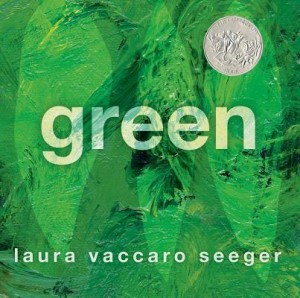 Green by Laura Vaccaro Seeger (Roaring Brook Press, 2012)
Enjoy this magical homage to green.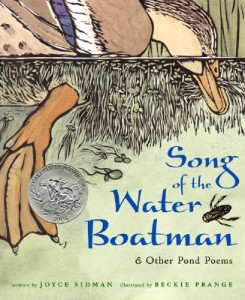 Song of the Water Boatman by Joyce Sidman, illustrated by Beckie Prange (Houghton Mifflin, 2005)
Is there a more perfect way to celebrate "green" than to settle down with a collection of Joyce Sidman's poems? From the flap copy: "From spring's first thaw to autumn's child, the world of the pond is a dramatic place. Through seemingly quiet, ponds are teeming with life and full of surprises."
Why not start with "A Small Green Riddle" about the smallest of the flowering plants, or a poem about spring peepers titled, "Listen for Me"? Join Joyce as she celebrates the beauty and mystery of ponds and wetlands.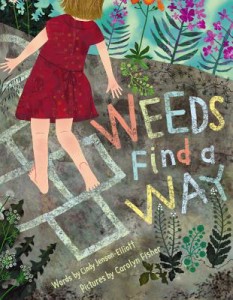 Weeds Find a Way by Cindy Jenson-Elliot, illustrated by by Carolyn Fisher (Beach Lane Books, 2014)
"Weeds send their seeds into the world in wondrous ways: fluffing up like feathers and floating away on the wind."
This lusciously illustrated ode to the beauty and tenacity of weeds will find its way into your heart! And don't miss Cindy's comprehensive TEACHER'S GUIDE, including lessons in science, informational narrative writing, poetry, art, and more!