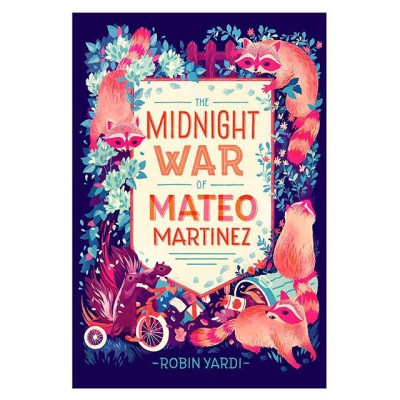 The Midnight War of Mateo Martinez by Robin Yardi (Carolrhoda Books, 2016) is the story of Mateo, a boy who thinks of himself as a knight with magical powers, his new best friend, Ashwin, and a couple of … shall we say… interesting skunks.
Mateo swears that the skunks not only stole his beloved, old trike, but actually ride the thing around the neighborhood while talking to one another. I know. I know. It sounds impossible, but I'm telling you… just read the book because Mateo's voice is so earnest, so genuine, so believable that within the first few paragraphs, you, too, will have slipped into a magical world where Mateo and Ashwin are knights, skunks can talk, and the things that make life hard – like growing apart from your old best friend and letting go of some of your favorite memories of childhood – can and do work themselves out in a midnight war between raccoons and skunks and a couple of boys on a mission. Add in one sweet and lovely relationship between Mateo and his younger sister, and you've got a winning story, not to be missed!
From Publishers Weekly: "Picture book author Yardi (They Just Know: Animal Instincts), in her first novel, delivers an entertaining story of sibling loyalty, friendship struggles, and the sometimes vexing passage into adolescence. "
Be sure to check back Monday when the ReaderKidZ talk with Robin about her latest book!