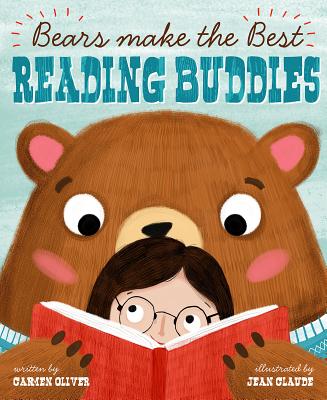 Bears Make the Best Reading Buddies (Capstone, 2016) is propelled by the power of persuasion. In it, Adelaide wants to convince her teacher, Mrs. Fitz-Pea, to allow her reading buddy to participate in their classroom reading project. The problem is that Adelaide's reading buddy is a bear. Not a tiny teddy bear, mine you. A real life, massive and mildly-mannered grizzly bear! Though Mrs. Fitz-Pea adamantly refuses her request, persistent Adelaide presents a litany of charming reasons why Bear should join in. The most poignant argument Adelaide presents is that, should a new reader get frustrated, Bear will wrap them up in a comforting hug. Truth be told, like many early readers, the skill of sounding out words does not come easily for Adelaide. And, Bear understands her struggle like no one else can.
Bears Make the Best Reading Buddies is Carmen Oliver's debut as a picture book author. Her thoughtful text paired with Jean Claude's engaging illustrations make Bears Make the Best Reading Buddies the perfect supportive tale for any novice reader.
"Well don't just stand there, Adelaide. Show that bear in."   ~ Mrs. Fitz-Pea
Enjoy a downloadable, Educator/Activity Guide HERE!