I love BEAR AND BUNNY (Candlewick Press), written by Daniel Pinkwater and illustrated by Will Hillenbrand for so many reasons. The biggest is the fact that if I didn't know better, I'd swear the author was five-years-old. I've been listening to Pinkwater on NPR for many years, however, and have also read his books, so I know he's not. (I have also seen his photograph. Let's just say he looks a bit older than five, although there's something in his expression …)
It's rare to find a book for very young children that reflects their inner thoughts and longings as perfectly as BEAR AND BUNNY. (At least, rare for me.) The voice of these characters rings absolutely true. The things they say, the sweet misinformation they hilariously exchange, their amazement over the tiniest things they find in the forest and their joy in sharing them with one another … Well, show me two five-year-olds in the backyard and Bear and Bunny would be them.
First, there's this:
You see, the bear is sure the bunny is a very small bear.
The bunny is sure the bear is a very large bunny.
This is not so, but it would be too hard to explain
It to them. Besides, it doesn't matter.
It doesn't matter. When does who a friend is ever matter to a five-year-old?
Bear and Bunny like to do everything together. They like to sing. They like to talk things over.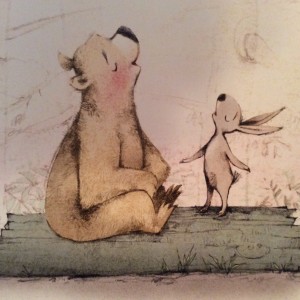 Sometimes, they go their separate ways and tell one another what they discovered:
"What did you see in the forest today?" asked the bear.
"I saw a caterpillar."
"You didn't! What was it doing?"
"It was crawling along."
"Imagine that! I wish I had seen it."
One day, they decide they'd like a pet who they can feed and who will love them. I won't reveal the results of their search, but suffice it to say that it's charming and silly and touching and oh, so very five-years-old.
The wonderful illustrator, Will Hillenbrand, said: "This bear gave me his paw. As we walked and talked, he showed me how to see his world … Now you see what I saw." And do we ever. Two of the sweetest, silliest animals-who-are-not-the-same-but-think-they-are, who happily take us all by the hand and show us how to see their world.
This is a picture book children will want to hear again and again and parents will want to read every bit as often. Everything that's as wonderful and as innocent and as constantly amazed by the world as a five-year-old permeates every sentence.
I really liked it.