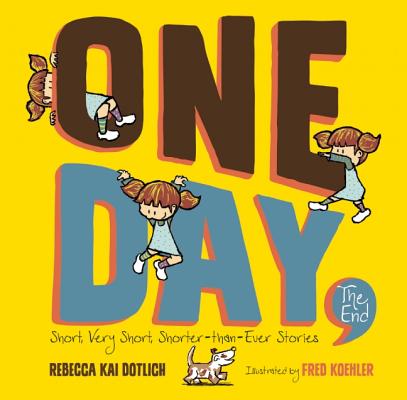 One Day, The End (Short, Very Short, Shorter-than-Ever Stories) by Rebecca Kai Dotlich, illustrated by Fred Koehler (Boyds Mills Press, 2015)
"For every STORY, there is a BEGINNING and an END, but what happens IN BETWEEN makes ALL the DIFFERENCE."
DIANNE: Let's talk about your newest book, ONE DAY, THE END. What a marvel! I love it for so many reasons – the clever, tight text; the possibilities it offers young writers; the exuberant illustrations. As picture books go, I'd say it's out-of-the-box- genius. I understand your grandson was instrumental in the inspiration behind the book. Can you tell us about the genesis of the book?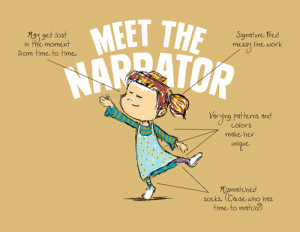 REBECCA: Thank you, Dianne. Funny, I've always loved the word *marvel.* Most likely because of Marvel Comics.My brother always had stacks of them. Words alone always make such connections in life. But back to the book. It started with a moment in the car when my grandson was 4 or 5. We were waiting on someone and he was bored and asked me to tell him a story. I must've been preoccupied and told him I would tell him a story later but he kept asking in that way children do, and so I just turned around and (channeling my dad, who always told me short, silly stories at bedtime instead of ever reading one) said, "One day I lost my dog. I found him. The end." And he laughed and laughed. "Tell me another one, grandma." Hmmm. "One day I went to school. I came home. The end." And he laughed so hard again. Right then whoever we were waiting on came out and we drove away, but I knew I had an idea to work on when I got home because he seemed so tickled with the brevity of those two line stories. So it was an idea. A concept. I played around with things a dog would do when he runs away and wild and humorous things that could happen during one day at a school, then put it away. A writer friend convinced me to pull it out of the files and work on it, but I knew that only a great editor and illustrator could make it work. And that's exactly what happened. Editor Rebecca Davis along with fabulous illustrator Fred Koehler helped create a truly special book.
DIANNE: In addition to a growing collection of picture books, you're also an amazing poet whose poems can be found in your published collections, as well as in many anthologies. Can you talk briefly about your process? I'm especially interested in hearing about the differences in the way you approach writing a poetry collection/poem vs. writing a picture book. Do you sit down with an idea for a collection or poem and begin to explore your topic? What does that process look like? How is the process similar or different from writing a picture book?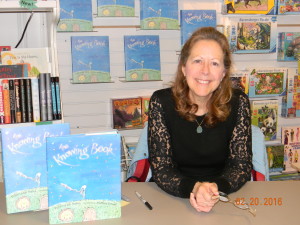 REBECCA: It's all fairly organic I would say. When I begin to explore a poem either for my own book or for an anthology invitation, the process starts off all over the place; I let myself wander and wonder and make lists of ideas and words while I have fun brainstorming. Once I get something to a certain stage then I can begin to mold it and the real dedicated work begins; the structure, the rhythm, etc. Then I polish until I get as close to a finished feeling as possible. Sometimes I let things sit for a long time and keep going back to it. Sometimes it comes fairly quick and easy. I approach books of poetry in both ways; I might explore a topic while taking notes and thinking of possible individual poems, and I have also gathered poems I have already written and see if I can group them into a theme of some sort and then add new poems to the mix.
I would say a picture book is often less organic than a poem. But not always. I am finding that the process is a hard thing to nail down with words.
DIANNE: I'm not sure you'll remember this, but many, many years ago (close to 20!), you spoke at a California Reading Association Conference workshop in Long Beach. You shared examples of your "brainstorming pages" as you worked on fleshing out the poem, "Paper Clips" for Lee Bennett Hopkins' anthology, SCHOOL SUPPLIES: A Book of Poems. Since that time, your poems have been published in many other anthologies and you've published picture books, concept books and easy readers (Peanut and Pearl), as well.
Each genre has its own "requirements" and "structure," and all are greatly benefited by poetic techniques, but… do you have a favorite? Do you find one easier? Harder? Less or more time-consuming?
REBECCA: I do remember. (I remember meeting you there, and then getting to know you and spend time with you out at a Highlights poetry workshop!) Writing poetry will always be my favorite way of putting words and heart on paper. Having said that, I truly love writing picture books and focusing on the rhythms, the lyricism, the characters. Having said THAT, I adore writing the playful and childlike easy readers and concept books. None are easy. Yet all are easy. As simple as something looks, it takes work to build it – yet if you love what you do, all the work brings you joy and so for that reason it has an ease and a comfort level to it.
DIANNE: Your next, THE KNOWING BOOK, is arriving on bookstore shelves in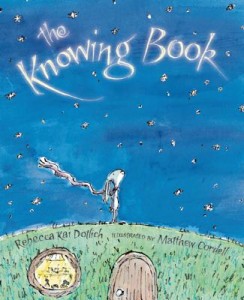 just a few days. With illustrations by Matthew Cordell, it looks to be another wonderful book. Congratulations! What else can readers look forward to?
REBECCA: Thanks Dianne. Matthew Cordell's illustrations are so beautiful. THE KNOWING BOOK is very special to me and I hope it will be to many people of all ages, from small ones to bigger ones and all those in-between. On the horizon are two rhyming picture books with Holt, the first to be illus. by Sachiko Yoshikawa, and another Grumbles book called Grumbles from the Town: Mother Goose Voices with a Twist, written with Jane Yolen (Wordsong/BMP) and illus. by Angela Matteson. I am also working on revisions of three books under contract with BMP, one rhyming picture book, one prose picture book, and a collection of poems. Thank you for inviting me to talk with your readers on ReaderKidZ.
Thank YOU for stopping by ReaderKidZ, Rebecca!