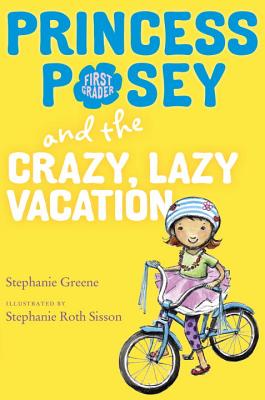 It's Spring vacation and everyone has big plans. Everyone, that is, except Princess Posey. She's going to spend the week at home. Boring! Fortunately, things turn out far better than expected. There's a loose tooth, a sleepover, and a new bike without training wheels! You won't want to miss Princess Posey and the Crazy, Lazy Vacation  (G.P. Putnam's Book for Young Readers, 2016), the newest book in this delightful series by Stephanie Greene, with illustrations by Stephanie Roth Sisson.
We're excited to be trying out something new today on ReaderKidZ – our very first (video) author interview! We've kept it short and hope teachers, librarians, and parents will find it to be a useful tool in giving young readers a chance to "meet" an author and get a peek into the writing process.
Enjoy learning more about author Stephanie Greene and the Princess Posey series!