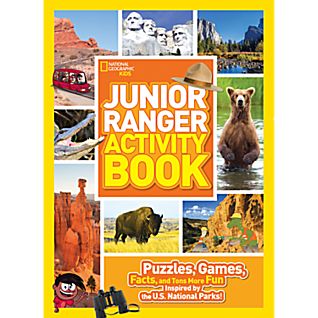 The National Geographic Kids Junior Rangers Activity Book by Christy Mihaly and the U.S. National Parks Service 100th Anniversary were discussed here. Today, we're enjoying some trivia and jokes.
What's your favorite activity, trivia, and JOKE in the book?
Oooh, that's a tough one. But I'll give it a go:
Activity: My favorite is an outdoor activity that's described on one of the Junior Ranger pages. It explains how to make a bird feeder using cardboard, peanut butter, and popcorn. How could that not be fun, right? But among the games in the book, I also like the "What in the World?" feature. For those, we'd come up with a theme, such as "The Park After Dark," and generate a list of items, in this case, things you might see in national parks after dark. The photo folks compiled zoomed-in photographs of some of these features, and the reader has to guess what they are. It can be very hard to recognize objects from these magnified photos.
Trivia: In doing research for the book, I learned about all the public lands we've got out there. Did you know there are national park units in the U.S. Virgin Islands and American Samoa, or that there's a Pony Express National Historic Trail, or that Hawaii Volcanoes National Park is home to fifteen species of endangered trees, or that there are national park system sites honoring inventors, artists, and civil rights leaders? There's just so much to explore.
But that wasn't what you asked . . . Here's a little trivia sampling for you:
A bristlecone pine tree in Great Basin National Park, Nevada, lived nearly 5,000 years before it was cut down.
Female park rangers weren't allowed to wear the "Smokey Bear" hats that male park rangers wore, until 1978.
President Gerald Ford once worked as a Yellowstone park ranger.
A grizzly bear can sniff out food 18 miles away.
Joke: We compiled jokes (rather than writing them from scratch, thank goodness!) and wanted them to be nature-themed or park-themed, so sometimes that was a challenge. Here's an example:
Jeff: Did you enjoy your camping trip even though it was raining?
Mary: It was in-tents. 🙂
How did you and this project meet? How long did it take to complete?
The short answer is that I started work in April, and the entire book went off to NGK for their final editing in September. So five months of work. Of course, that's never the whole story, right?
I'd been writing children's nonfiction, and had published articles and other short pieces. I wanted to write books. I knew that one way to get a book published was by working with a book packager (a company that hires writers to create books for a publisher). For Junior Ranger Activity Book, I worked with the very fine packager Bender Richardson White, which is located in England. I met Lionel Bender (BRW founder) at a Highlights Foundation workshop in July 2013. I sent him my resume in May 2014 and told him I'd be interested in writing for BRW if he had an appropriate assignment.
In February 2015, I sent an updated resume and in March, Lionel emailed asking if I might be interested in a project about the national parks. Of course, I said YES.
We signed the contract in April and started work immediately based on NGK's concept. In June, we had a first draft. In July and August we revised, sending questions and answers back and forth across the Atlantic. Lionel and BRW were in communication with the NGK editors, photography staff, and so forth. It was a real team effort. A second draft of the book was done in August, and the third in September (with filled-in answer pages for all those games and quizzes!)
What other projects are you working on? Anything we should watch for?
I have a rhyming (nonfiction) picture book scheduled for release next spring that will actually have my name on it! I also have a story in a Chicken Soup for the Soul book ("My Very Good, Very Bad Dog") that's coincidentally released on February 9, the same day as Junior Ranger.
 I've been writing a great deal on assignment for an educational company, which is so much fun, and keeps me in the writing groove. I also have a pile of picture book and middle-grade manuscripts that need revision. So, it's never boring.
Thank you, Christy!
Christy Mihaly has published children's stories, poems, and articles about nature, technology, and history. Her first picture book is scheduled for a spring 2017 release from Holiday House. She has degrees in law and environmental studies and lives with her family in Vermont, where she has been a volunteer reading mentor, an environmental educator, and plays the cello.