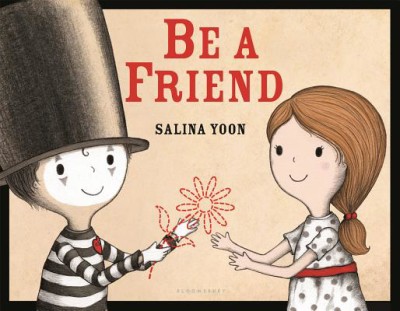 Any time of year is the right time to be a friend and love the people in our lives. With Valentine's Day right around the corner, why not seek out these new picture books to share with the kids in your lives?
"DENNIS was an ordinary boy… who expressed himself in EXTRAORDINARY ways" – quiet ways that weren't always understood by the other children. Sometimes, "Dennis felt INVISIBLE."
Then, Joy came along. Dennis and Joy "saw the world the SAME way."
A gentle, uplifting story about the joy of finding a friend who "gets" you. 
Here Comes Valentine Cat by Deborah Underwood, pictures by Claudia Rueda (Dial Books, 2016)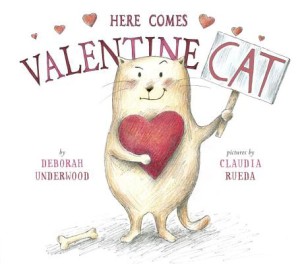 Poor Cat! He's not a fan of Valentine's Day. In fact, he's declared his turf a "No Valentines Zone." He's in a grouchy mood and that pesky new Dog next door isn't helping Cat feel any more welcoming. He keeps tossing bones over the fence and Cat is prepared to send him just what he deserves – a "worst neighbor" Valentine! He's even got plans to ship Dog off to outer space in the rocket he's building, just for that purpose.
Then Dog sends Cat a Valentine, and, of course, everything changes. This fourth in the series of Here Comes… Cat books by Underwood and Rueda is a charming addition to a very delightful collection.
Click HERE to download free Cat valentines to color and send!
I Love You Already by Jory John & Benji Davies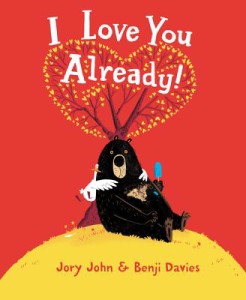 The creators of Goodnight, Already! are back again with another humorous sequel. Duck, Bear's well-meaning, but energetic neighbor, is knocking on the front door. He's ready to tell his life's story, get some exercise, and spend the day sharing quality time with none other than his best buddy, Bear. But Bear has other plans. He's just settled in with a good book and a cup of tea, and can't wait to spend a pleasant day being lazy – all by himself.
From Linda Ludke's School Library Journal review:
 On their walk, the hyper Duck volleys a steady stream of questions at taciturn Bear, whose one-word replies make Duck fret that he doesn't like him. Bear's repeated reassurances of "I LIKE YOU ALREADY!" fall on deaf ears, until Duck falls out of a tree and his pal shows concern. Each character has a distinct voice that is enhanced by the use of different typefaces. Davies's cartoon illustrations also playfully capture this introvert and extrovert dichotomy, with frenetic Duck's feathers in a perpetual flap and lumbering Bear seeking quiet respite beside a tree. VERDICT The comedic timing in this exploration of personality types and friendship is spot-on, and the wry patter is great fun to read aloud.
What are your favorite FRIENDSHIP or VALENTINE'S DAY books? Please share them in the comments!