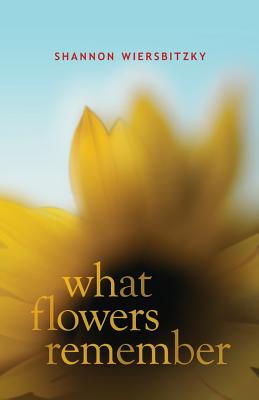 What Flowers Remember by Shannon Wiersbitzky (namelos, 2014)
Delia's been learning all there is to know from her elderly neighbor, Old Red Clancy's "School of Gardening." While Old Red keeps up a constant chatter filled with the Latin names of flowers and the best ways to cut and prune blossoms, Delia hatches a plan.
Since Old Red's garden is the envy of everyone in Tucker's Ferry, she has a hunch that if she and Red start a business collecting and selling heirloom flower seeds, the town folk will be more than willing to buy. What could be better than sharing the beauty of Old Red's garden with the people of Tucker's Ferry?
But something starts happening to Old Red. He's forgetting familiar places and the names of people he's known for decades. It's hard to watch… Delia determines to collect and share as many of Old Red's stories and memories as she can, papering the walls of the nursing home where he lives with words and pictures. In the process, she's able to come to terms with his decline.
This tender story reminds readers of the power of love, family, and community to carry them through the inevitable ups and downs of life. Delia's story will prove especially poignant for young readers with grandparents or other loved ones experiencing dementia.
Check back later this week when author Shannon Wiersbitzky joins the ReaderKidZ  for an in-depth interview, including a list of Alzheimer's resources appropriate to share with students.
Awards:
2015 New Books for Missouri Students
2015 Notable Children's Books in the Language Arts
Lamplighter Award nominee, 6th-8th, 2015-2016
Bank Street 2015 Best Children's Books of the Year, ages 12-14
Top Shelf honoree 2014, VOYA Magazine