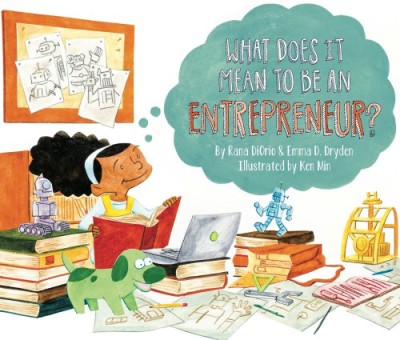 What Does It Mean to be an Entrepreneur? (Little Pickle Press, 2016) explores the initiative, tenacity, and persistence needed to successfully transform an inspiration into a functioning reality. Entrepreneurs approach problem-solving opportunities by asking the questions "What if?" and "What for?" From there, they tirelessly investigate options in search of creative ways to develop products and services to benefit others. In this charming picture book, concepts such as these are delightfully demonstrated through a resourceful young girl's innovative quest to design a fully-automated, robotic dog-washing machine.
Illustrated by Ken Min, What Does It Mean to be an Entrepreneur? is co-authored by Rana DiOrio, the founder of Little Pickle Press, and editorial consultant Emma Dryden. This picture book is the sixth in their awarding-winning What Does It Mean to Be . . .? series. Little Pickle Press is dedicated to creating inspiring media that fosters kindness in young people.
What Does It Mean to be an Entrepreneur? is Emma Dryden's first picture book.
Congratulations, Emma! We ReaderKidZ are mighty happy for you!