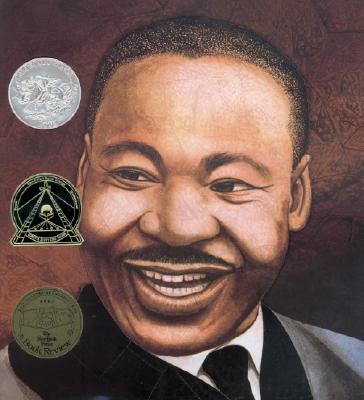 ReaderKidZ is pleased to celebrate Dr. King through several of the wonderful books that capture the boy, the man, and the pastor who inspired us to stand up and lead with words, not fists.
MARTIN'S BIG WORDS: The Life of Dr. Martin Luther King, Jr. by Doreen Rappaport, illustrated by Bryan Collier (Hyperion Books for Children, 2001)
This simple, yet powerful, text by author Doreen Rappaport is a story of a young Martin who believed his mother when she told him "you are as good as anyone." He learned – in spite of the "Whites Only" signs posted in his town – there were good words and he used those words to inspire people everywhere to stand up for the equal treatment of all. To march for freedom. To fight with peaceful words.
Told through watercolor and cut paper collage, Brian Collier's illustrations are exquisite, allowing readers to truly connect and experience the story. Martin's Big Words is perfect for ages 5 and up.
HAPPY BIRTHDAY, MARTIN LUTHER KING by Jean Marzollo, illustrated by Brian Pinkney (Scholastic Press, 1993)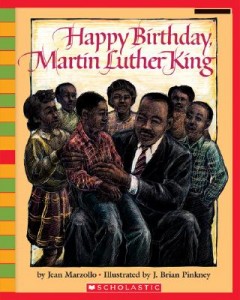 Another wonderful read-aloud describing King's life, death, and accomplishments is Happy Birthday, Martin Luther King. Geared towards younger students, Marzollo's careful consideration in choosing just the right words to highlight King's life include sentences such as, "His dream was that people everywhere would learn to live together without being mean to one another," and rich details like "His body was put in a simple farm cart and pulled slowly by two mules to a cemetery." Brian Pinkney's scratch board and oil pastel illustrations elevate the story and are infused with emotion and light.
MARCH ON! THE DAY MY BROTHER MARTIN CHANGED THE WORLD by Christine King Farris, illustrated by London Ladd (Scholastic Press, 2008).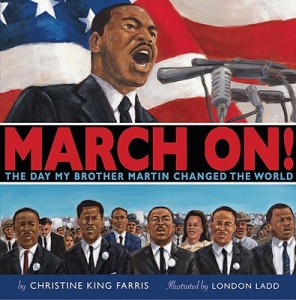 Martin Luther King Jr.'s sister, Christine King Farris, takes readers on a journey as she recounts the events leading up to and culminating in the day of the great March for jobs and freedom in Washington. Her passionate story-telling skills place the reader in the patchwork of people standing at the Lincoln Memorial. The reader feels she is with King as he prepared his speech, met with the six most respected civil rights leaders of the time, heard the hymns from the crowd, the chants "Amen!", "Glo Be!","Ha' Mercy!", and delivered his speech urging America to move forward and find freedom. It's a glimpse into King's world and all that he held near and dear in his heart. London Ladd's acrylic paintings are gorgeous throughout, rich in color and energy. This book should not be missed! For ages 9 and up.
MY UNCLE MARTIN'S WORDS FOR AMERICA by Angela Farris Watkins, PhD, illustrated by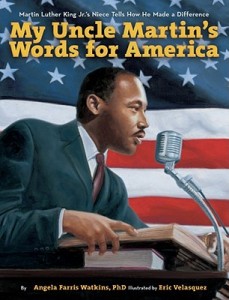 Eric Velasquez (Abrams Books for Young Readers, 2011)
Martin Luther King Jr.'s niece eloquently reminds readers that before King came along, America was a very different place. There were no African American judges, astronauts, Hollywood directors, or Presidents. There were laws – "Jim Crow" laws – that prevented African Americans from exercising their civil rights. Watkins demonstrates, not only the power of her uncle's words and actions to bring about change, but also the role the people played. Rich and colorful pastel oil illustrations bring justice and beauty to the pages.
Readers may also enjoy a more intimate read in My Uncle Martin's Big Heart, by the same author/illustrator team. (Abrams Books for Young Readers, 2010). Both books for K and up.