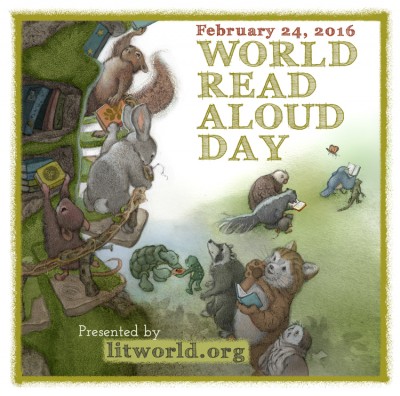 LitWorld is a 501(c)3 non-profit organization whose mission is to empower young people to author lives of independence, hope, and joy. One of the ways they carry out their mission is through their sponsorship of World Read-Aloud Day.
From their website: 
We cultivate a love of reading and writing because having the chance to experience that love is how literacy grows best and strongest. Literacy for LitWorld is not just about learning the alphabet or phonemic practice, it is also about cultivating creative expression, about the power of the read aloud to immerse children in the power of language, and about putting young people's stories out into the world, dignifying their experience and giving them a voice in the world. This is the way people really learn to read and write.
Each year, children's book authors volunteer to SKYPE with classrooms around the world, sharing their love of reading with kids all over the planet!
If you're a TEACHER or LIBRARIAN, here's how you can invite an author to your school on February 24, 2016.
Check out the list of volunteering authors on KATE MESSNER's site to see which ones might be a good fit for your students.
Contact the author directly using the email provided or the contact form on his or her website. Please include:

Your name and the grade(s) you work with
Your city and time zone (important for scheduling!)
Your best times to Skype on February 24th.
Your Skype username
A phone number where you can be reached on that day in case of technical issues
If you'd like to Skype with one of the ReaderKidZ, please see the info below!
Ann Jacobus (YA)
St. Martin's Griffin/Macmillan
High School
8:30am – 2:30 pm PST