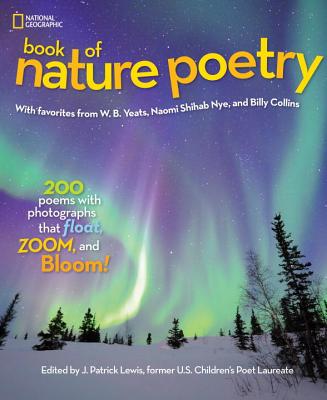 Last week had the ReaderKidZ talking about the Cybils and Poetry. This week kicks off with more of the same. Today, we're featuring a peek at another book on the list of 2015 Poetry Finalists: National Geographic's BOOK OF NATURE POETRY, edited by J. Patrick Lewis.
All I can say is – this is an amazing book! Especially if you're a fan of poetry anthologies which, from a educator's perspective, allow teachers to give children easy access to a carefully curated collection of poems and voices, often chosen around a specific theme.
National Geographic's Book of Nature Poetry is organized into ten "headings" with poems by well-known children's poets such as Marilyn Singer (recipient of the National Council of Teachers of English 2015 Award for Excellence in Children's Poetry) and J. Patrick Lewis (recipient of BOTH the Children's Poet Laureate distinction and the NCTE's Excellence in Poetry Award), as well as adult poets such as Langston Hughes, Robert Frost, and Emily Dickinson.
From the flap:
Experience the wonder of nature, from your backyard to far-flung destinations. Soar In the Sky …. plunge In the Sea… Join animals On the Move, race Across the Land, and come to rest In Shade. See the world In Distress, In Season, and most of all, In Splendor… diverse voices capture a world worth preserving…
There are over 200 poems in this collection, including two of my favorites, "To Look at Any Thing" by John Moffit and another, "Swift Things are Beautiful" by Elizabeth Coatsworth. The striking photographs we've come to recognize as hallmark National Geographic make the journey over, across and through our natural world a "poetry excursion" worth taking.