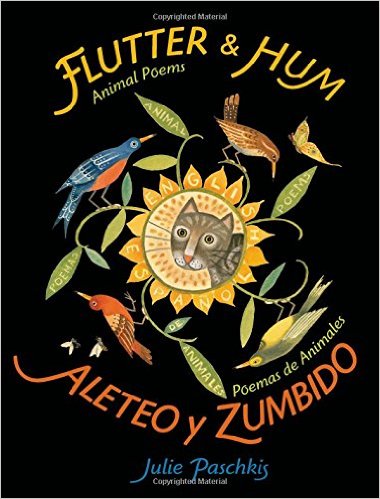 The ReaderKidZ love poetry and we always look forward to the annual Cybils awards announcements. Round 1 is now completed! (One finalist will be chosen from each book and the winner in each category will be announced on February 14th.)
A few days ago we took a look at one of the 2015 CYBILS POETRY award finalists – WINTER BEES & OTHER POEMS OF THE COLD by Joyce Sidman and Rick Allen.  Another fun poetry collection on the Cybils list this year is Flutter and Hum: Animal Poems / Aleteo y Zumbido: Poemas de Animales.  Julie Paschkis has created her poems in both Spanish and English – first written in Spanish which is a learned "second language."   The poems are accompanied by Paschkis' vibrant folk art, with words from the poem/palabras de los poemas embedded in the illustrations.  Truly a book to read again and again, and with each time, discover new visual and language surprises.  Julie Paschkis comments: "Somehow my unfamiliarity with Spanish freed me to write poetry. I felt like a visitor wandering through a forest of Spanish words, marveling at the beauty of sound, meaning, and syntax." This is a book that will also encourage readers who are themselves learning a second language.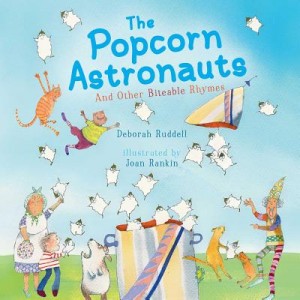 Then pop into a "delicious stew" of poetry in POPCORN ASTRONAUTS AND OTHER BITEABLE RHYMES by Deborah Ruddell, illustrated by Joan Rankin.  Yes, delicious. Ridiculous. Funny. Engaging. Popcorn Astronauts offers a variety of "edible" poems that are as strange and crazy as the book's title. For example, try a shake ordered to poetic specifications: "A frosty cup of moonlight, please … As mushy as a mittenful of slightly melted snow …." If that's a little on the chilly side, then try "Dracula's Late-Night Bite," especially after he "flosses his fangs and he slides out the door for dessert." Great poems to cause both laughter and interest in young readers and examples for writing one's own delicious verse.