Christmas. It's a time of miracles. A time when winter storms rage outside, while indoors, families gather together to enjoy one another's company in noisy reunions or quiet moments of reflection.  It's a time of peace, hope, love. And… not surprisingly… books, which have long been at the top of my own gift-giving and receiving lists.
Today the ReaderKidZ look back 5 years to a post with some of our favorite books in 2010.
I fell in love with Audrey Couloumbis's first book, the Newbery Honor Getting Near to Baby, years ago, and her latest, JAKE, released just in time for the holidays, is a new favorite.
When his mother lands in the hospital with an injury days before Christmas, Jake finds himself in the care of a neighbor and the grandfather he knows only by way of the obligatory twice-yearly phone call.
An uplifting, "feel-good" story of family, friendship, and characters that grow to care for and understand – truly understand – one another, JAKE is about real relationships and the way a family pulls together in unexpected ways. Isn't that part of what this season is all about?
SILVER PACKAGES by Cynthia Rylant, paintings by Chris K. Soentpiet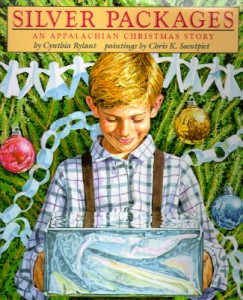 For years, every time I shared a book by Cynthia Rylant, I would remind my class that she was my all-time favorite author. Few write as beautifully as Rylant.
Of course, these days, I have many favorite authors, but Rylant still amazes me. SILVER PACKAGES certainly ranks high on my list of holiday favorites. It's also a book I can't seem to read without choking up at the end.
This story is sure to remind us all of the ways a simple kindness can grow in unexpected and powerful directions.
CHRISTMAS AT STONY CREEK by Stephanie Greene, illustrated by Chris Sheban.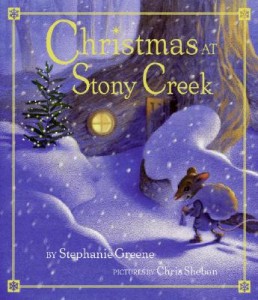 I'm not sure how many readers have discovered this gem of a book, but CHRISTMAS AT STONY CREEK is like a timeless classic, a book to be enjoyed year after year, and passed down through the family. It's the perfect read-aloud for one or many children snuggled up in a parent's or grandparent's cozy lap.
Pip, small and quiet, doesn't feel very brave. The world outside her family's mouse home seems large and scary. But Papa has always believed in Pip, and when the time comes that she must face her fears and the wintery dangers outside the cozy mouse hole in order to search out food for her hungry brothers and sisters, Pip remembers Papa's words and finds the strength to do the extraordinary.
CHRISTMAS WITH THE MOUSEKINS: A Story with Crafts, Recipes, Poems, and More! by Maggie Smith
Filled with holiday activities, CHRISTMAS WITH THE MOUSEKINS is a mini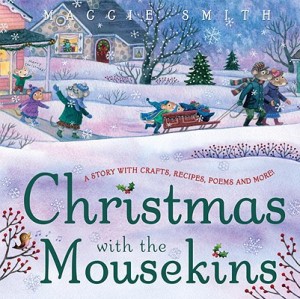 make -'n- take for the wee and not so small ones in your life.  There are crafts, like "Mittens-in-a-Row" and "Momo's Christmas Tree Hat," recipes, such as "Cinnamon Snails" and "Gingerbread Mice," sock puppet how-to's, poems, stories, and more.
Celebrate the season with the Mousekin family and work you way through a lovely collection of holiday fun. I've already given this delightful book to several young children I know.
GREAT JOY by Kate DiCamillo, illustrated by Bagram Ibatoulline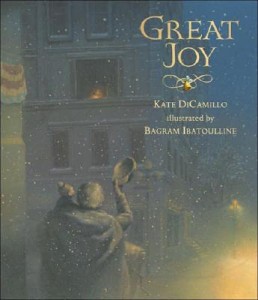 I think it was my grandmother who gave me THE LITTLE MATCH GIRL one long-ago Christmas. As a child, my takeaway was not the somber ending, but instead, the joyful memories the little girl saw in the light of her matches.
In some ways, GREAT JOY reminds me of The Little Match Girl. Maybe it's the stunning illustrations by Ibatoulline and the image of the homeless man on the street corner tipping his hat towards the lighted window on a snowy night.
In this story, it's an organ grinder who's alone on the street late at night and a young girl who invites the man in from the cold. At the last minute, the man and his monkey do come and, at his appearance, young Frances, in her role as the angel in the church pageant, announces her "Great Joy."
THE LONGEST NIGHT by Marion Dane Bauer, illustrated by Ted Lewin.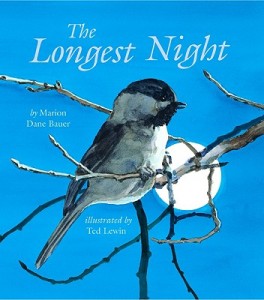 I first heard Marion read THE LONGEST NIGHT when I was a grad student at Vermont College. She shared several versions of the story with us along with this final, published version.
Though Marion has said she doesn't consider herself a poet, this book is poetic prose at its finest. This beautiful story about the night, long and long, and sun, gone and gone, and the little chickadee who can't climb or scoop, sniff or dig, but who sings – dee-dee-dee, and dee and dee, again – and wakes the sun so it begins its journey towards spring is one you'll want to read over and over and over.
As Christmas draws near and 2015 comes to a close, may you and yours enjoy the sweetness of one another's company, the joy of the season and – above all – peace in the New Year.