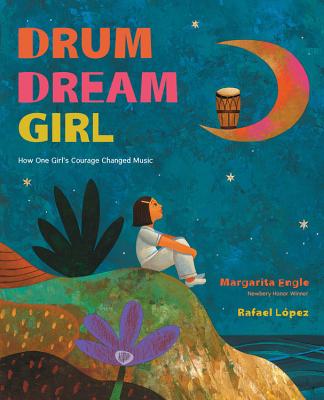 I share with you a new picture book by Newbery Honor Winner, Margarita Engle –  DRUM DREAM GIRL, How One Girl's Courage Changed Music, illustrated by Rafael Lopez.
This book rocks with rhythm and tropical color,whispers a lyrical tune, beats and drums as it tells the story of a courageous heart. The reader follows a young girl who lives "on an island of music / in a city of drum-beats," a girl who dreams an impossible dream. She dreams of becoming a drummer but on her island, only boys play drums. The story is based on the life of musician, Millo Castro Zaldarriaga, a "Chinese-African-Cuban" girl who did break Cuba's rule that only men can be drummers.
Margarita Engle's words and rhythm produce a delightful music of its own. The reader is invited to dance along with the drum-dream girl:
When she walked under wind-wavy palm trees

In a flower-bright park she heard

the whir of parrot wings

the clack of woodpecker beaks

the dancing tap

of her own

heartbeat.               From DRUM DREAM GIRL
Take a minute and order this joyous picture book from an independent bookstore, online or in person, and join the Diversity in Picture Books – The Drum It Up Challenge today.
Courtesy of April Chu:
Support diversity in picture books: The Drum It Up Challenge! has begun:
From November 28 to January 1st, bookstores will be drumming up interest in DRUM DREAM GIRL by striving to sell as many copies as possible.
On Indies First Day (Small Business Saturday, November 28), members and supporters of the We Need Diverse Books movement appeared in bookstores across the country to hand sell this title to patrons as they browsed, and a social media effort centered around the hashtag #DrumItUp commenced the following week.
At the end of the selling period, the top selling bookstore, as determined on a sliding scale, will receive a prize package including a WNDB Bookseller of the Year trophy and a large high quality giclee print signed by Rafael López.
More details here: http://weneeddiversebooks.org/drumitup/ #DrumItUp
To learn about other notable books from 2015 – here is one list from the New York Times:
http://www.nytimes.com/2015/12/06/books/review/notable-childrens-books-of-2015.html?_r=0
So many wonderful new books that reflect a diversity of voices!