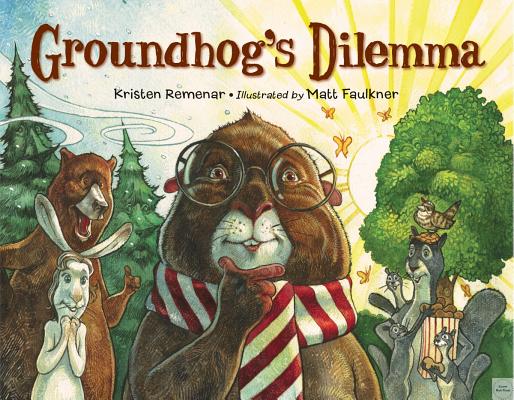 Fair-minded Groundhog is caught in a conundrum. The seasonal prediction he makes on Groundhog Day pleases some of his friends, but not all. Bear and Hare want six more weeks of winter. Squirrel and Sparrow, most definitely, do not. Groundhog explains that he's not in control of the weather. Instead, he merely "Calls it like he sees it."
When springtime eventually arrives, the animals of the forest resort to manipulation and bribery hoping to influence Groundhog's future shadow-watching declarations. His social calendar overflows with invitations to baseball games, dining opportunities, and entertaining experiences unlike those he's ever known! Truth be told, he enjoys the attention. However, come February 2, there will be a price to pay. Will Groundhog be able to truthfully state what his shadow reveals or will he be swayed in efforts to please others?
Groundhog's Dilemma (Charlesbridge, 2015) explores themes of friendship, integrity, and honor is the most delightful ways. Debut author Kris Remenar's sparse, tongue-in cheek text is hilarious, lively, and perfectly complimented by husband Matt Faulkner's incredibly detailed illustrations. Groundhog's Dilemma is both funny and poignant, one that readers will enjoy time and time again.