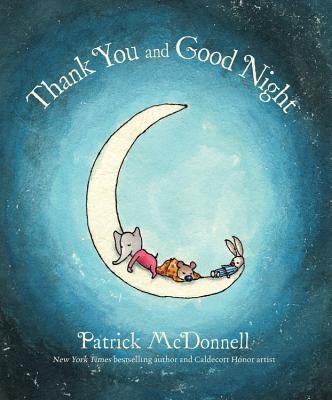 There's much to admire about Patrick McDonnell's work. In fact, two of his picture books have found their way into ReaderKidZ' reviews over the last several years – Me, Jane (Little, Brown & Co., 2011), a Caldecott Honor winner, tells the story of a young Jane Goodall's dream of "a life living with and helping all animals" and A Perfectly Messed-Up Story (Little, Brown & Co., 2014) about the sometimes messy and inconvenient realities of the stories we tell and the lives we live.
But now McDonnell has written a book with all the makings of a classic bedtime story – Thank You and Good Night.  From the flap copy: "In a gentle tribute to classic children's books, award-winning artist Patrick McDonnell captures the magic of a very first sleepover with friends that also reminds us to cherish even the simplest pleasures."
The story begins quietly enough. The sun sets. The moon rises, and Maggie, the little girl of the house,  helps Clement, her stuffed bunny, button his favorite pajamas. His friends – Jean, a small elephant, and Alan Alexander, a bear with a red balloon – come for a sleep over. There are games and snacks and a funny face contest. Best of all, there are "stories about a majestic elephant, a brave bear, and a quiet bunny…. Stories that bring sweet dreams."
Just before the friends fall asleep, Maggie invites the three to say what they're thankful for – "The sun, the moon, a red balloon… a shooting-star wish… cozy pajamas… A long, long list…" that ends with a good-night kiss. It's tender and sweet and heartfelt… a gentle, child-centered bedtime story that begs to be shared with the special child in YOUR life.