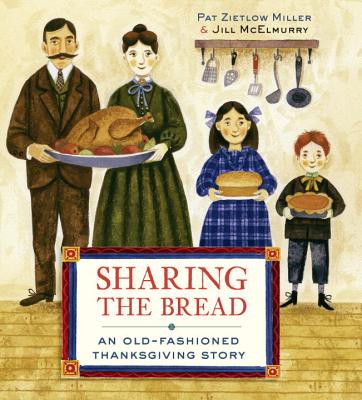 November has finally arrived. The stores are filled to overflowing with turkeys, pumpkins, spices, and all manner of signs to remind us that the holidays are just around the corner. One especially sweet addition lining bookstore and library shelves this season is Pat Zietlow Miller's newest – SHARING THE BREAD , illustrated by Jill McElmurry.
Subtitled, "An Old-fashioned Thanksgiving Story" Sharing the Bread, has all the charm and feel of a familiar, traditional song that recounts the joys of working together as a family to create a memorable meal. As Mama fetches the cooking pot, and Daddy makes the fire hot, Sister kneads the rising dough, brother lines loaves in row. Grandma and Grandpa, Auntie and Uncle have jobs too. When all is prepared, the table set, the food waiting, hot on the table, the family gathers round to "share the risen bread" and their "made-with-love Thanksgiving spread."
A beautiful addition to a classroom library or a family's home collection, SHARING THE BREAD is the perfect read-aloud to share the spirit and joy of this season.
Check back later this week to enjoy an interview with Pat about writing this book, along with what readers can anticipate from Pat in the coming year.