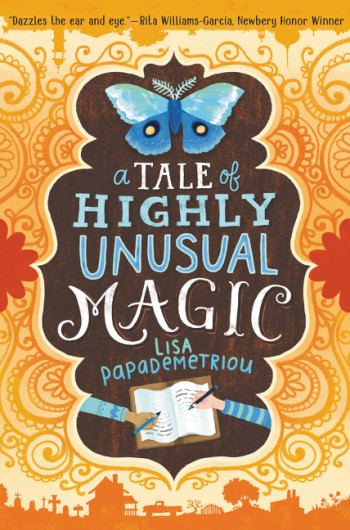 In Lisa Papademetriou's fascinating A Tale of Highly Unusual Magic (HarperCollins, 2015) two girls on polar opposite points of the earth are brought together by a magical book entitled The Exquisite Corpse. Kia is from Houston. Leila is an American living in Pakistan. Each have a copy of the magic book that writes its own story about celestial moths, eerie caskets, and a timeless love shared long ago. Though unaware of one another, Kia and Leila independently become engaged in tale The Exquisite Corpse gradually tells. Eventually, they piece together facets of a compelling mystery, one in which they each unwittingly play critical roles in solving.
Inspired by ornate volume of fairy tales given to Lisa as child, A Tale of Highly Unusual Magic is a testimony to mysteries of the past brought to light through love and magic. The story line is intelligent and complex. In it, Lisa masterfully braids three well-developed voices together, that of Kai's, Leila's, and The Exquisite Corpse. Social status, personal confidence, family, and loss are just a few of themes explored in this novel.
Access Lisa's website to read a sample chapter. She's also offering a number of insightful support materials available for download – a glossary of Urdu words and phrases, a CCSS-aligned Educator's Discussion & Activity Guide, and instructions explaining how to play Exquisite Corpse. Who knows? You just might find a little bit of magic on her website, too!