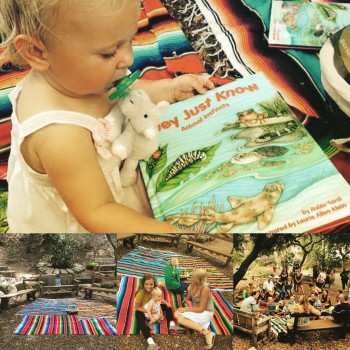 Today ReaderKidZ welcomes back Robin Yardi for Part 2 of an interview about her first book, THEY JUST KNOW. Find Part 1 HERE.
Dianne: Because the book is organized into a compare/contrast format, kids can delight in the natural order of things – "When a newly-hatched butterfly takes her first flight, she doesn't need anyone to hold her gently by the wing. Butterflies just know." – , but also giggle at the illustration of a butterfly pouring over maps and charts, and making flight notes as it readies for a long migration. I can see kids using the text as a springboard to come up with their own examples and illustrations of animal instincts. In fact, the publisher has provided a very complete Activity Guide to encourage using the book as a resource for extension activities. Can you talk about how teachers might us your book in the classroom?
Robin: The extension activities in the back of the book really are just the beginning!
Write a Book: I could definitely see kids writing silly scenarios about other animals, and then mirroring the structure of the book to write their own realistic sentences. Wouldn't jellyfish be great? Or snails? Or geckos?? Then, voila—you've got a classroom book!
Learn about Lifecycles: Each animal in the book is given a beautifully illustrated spread depicting their lifecycle. Classroom teachers have so much fun teaching about animal lifecycles… it makes me wonder how kids would draw their own lifecycles. As humans we don't transform as spectacularly as butterflies, and we can't swim just after birth like horn sharks, but we do grow and learn some amazing things along the way. Classroom teachers could ask children to draw and write about something they have learned to do and maybe even draw themselves as adults, doing something they plan to learn to do!
Make a Snake: There are also opportunities to delve deply into animal instincts. I recently d
id a bunch of research about snake patterning and learned that different patterns are associated with certain instinctual behaviors. Did you know that speckled snakes instinctively hunt birds? Or that striped snakes almost never live in trees? For the book release party I helped kids design their own snake species, keeping in mind what their chosen patterns would indicate about that kind of snake's instinctual behaviors.
I think the book is a great springboard into whatever interests you and your students most. I'm sure over the next few years I'll keep learning about animal instincts and I can't wait to find out what I'll discover next. I hope kids and classroom teachers feel inspired to do that same kind of learning!
Dianne: You're a credentialed teacher and a Santa Barbara Museum of Natural History backyard naturalist. Your own yard is home to a Sulcata Tortoise, eight chickens, and innumerable koi. What does it mean to be a backyard naturalist? Any tips for kids wanting to learn more about the animals that might be hiding in their own backyards?

Robin: When school groups come to the museum there is a very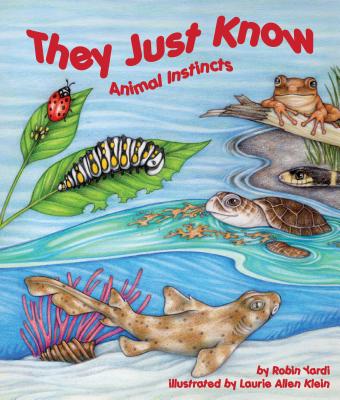 special space set up for them to explore in a riparian woodland. In kid speak this means we have a cool creek and lots of beautiful trees, pots and pans for mud pies and trowels to dig with! Most of what we want them to do there… is play! But we also teach them about what animals are hiding in the dirt, flitting in the trees, and creeping along the creek, about how the soil, the plants, and animals interact to create a thriving ecosystem right in the museum's backyard. We hunt for frogs and invertebrates, watch squirrels and birds, find tracks and feathers and owl pellets. The museum backyard is a special place, staffed by scientists and teachers, but everyone can be a backyard naturalist. My tips are simple: go outside (if you don't have a garden, go to the park), look, listen, search, dig, explore, climb… and have fun!
Dianne: Speaking of backyard animals, you have a novel coming from Carolrhoda Books in 2016 called THE MIDNIGHT WAR OF MATEO MARTINEZ about three kids, a midnight war, stinky trike-riding skunks, and an army of vicious raccoons. Tell us more!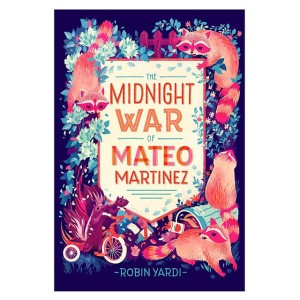 Robin: Ha! Well, the idea for that book did start in my backyard. One night, through the backdoor, my daughter and I watched skunks, raccoons, and stray cats battle it out for some leftover dog food. I said, "I wonder if the skunks and raccoons play on the playground at night when you're asleep?"
"How would they even get there?" my daughter asked.
"On your old squeaky trike!" I said. She laughed and so I had my beginning.
The book is about Mateo and Ashwin, two best friends who are obsessed with knighthood and honor, and, okay, it's about Mateo's little sister Mila too. One night two skunks squeak away on Mila's red trike. Well, Mateo and Ashwin wage a war to retrieve the trike and protect the neighborhood. Their honor requires it. The book is as fun and funny, as full of adventure and heart, and as stinky as all the kids I've ever taught! I can't wait for them to read it.
Thank you for having me at Reader KidZ!
Dianne: You're welcome!
To learn more about Robin,  visit her website HERE.